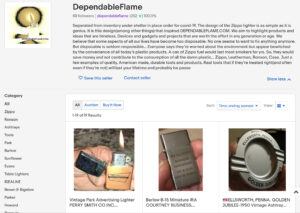 As a member of the Ebay Partner Network, I earn from qualifying purchases. Clicking through and purchasing a lighter from a link on this page will result in DependableFlame earning a commission. Your price will be the same regardless of where you click from.
Click on thumbnails for expanded view
CLICK HERE For Archived Video And Photos Of Sold DependableFlame.com Listings.
Click On Thumbnail To Enlarge Any Photo.
Street Chrome Zippo Windproof Lighter All-In-One Kit From Robert Hollingsworth For Penny Start HDSA Huntington's Disease Society Of America Charity Auction
CLICK HERE To Purchase This Lighter From DependableFlame.com On Ebay
CLICK HERE To Purchase This Lighter From DependableFlame.com On Ebay
CLICK HERE To Purchase This Lighter From DependableFlame.com On Ebay
CLICK HERE To Purchase This Lighter From DependableFlame.com On Ebay
CLICK HERE To Purchase This Lighter From DependableFlame.com On Ebay
CLICK HERE To Purchase This Lighter From DependableFlame.com On Ebay
CLICK HERE To Purchase This Lighter From DependableFlame.com On Ebay
CLICK HERE To Purchase This Lighter From DependableFlame.com On Ebay
CLICK HERE To Purchase This Lighter From DependableFlame.com on Ebay