(As an Amazon Associate, I earn from qualifying purchases.)
Review
In the last year, I have purchased no less than five new butane torch lighters. This article will review the pros and cons of these five lighters along with the price I paid and the place I bought each lighter. The links provided will take you to that product's page on Amazon.com. By you clicking these links and purchasing, we will earn a commission. Your price will be the same whether you click our link or navigate to Amazon some other way.
Product: Ronson Jetlite Butane Torch Lighter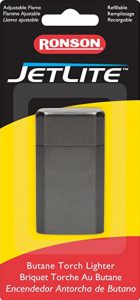 Place of Purchase: Amazon
Fuel Type: Butane
Warranty: 1 Year
Cons: Doesn't do anything special(except light your cigarette when you need it to)
Pros: Good flame, easy to refuel and adjust, solid construction
My Rating: 10 out of 10
The Ronson Jetlite Butane Torch Lighter is a no-frills, what you see is what you get performer. The controls are simple and straight forward. The case is rugged and all visible parts are metal. It comes in a variety of colors and patterns but the basic design of the lighter itself has a Gothic flare. The Ronson Jetlite came pre-fueled, so that made it really convenient. The solid body cast construction lends its heft, it feels like a tool in your hand. The hinge spring is tight and holds open and closed admirably. I believe this is the lighter to buy if you're looking for the best value on the best quality in a New lighter
Product: Ultimate Survival Technologies Klipp Lighter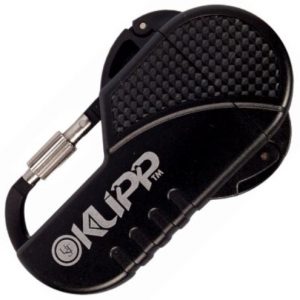 Place of Purchase: Target.com
Fuel Type: Butane
Warranty: 2 Year
Cons: Plastic construction, difficult to adjust
Pros: Reliable ignition, versatile
My Rating: 9 out of 10
The UST Klipp Lighter with Biner is an excellent choice for outdoorsmen of all kinds. The included biner allows attachment to a belt loop, MOLLE or just about anywhere else. The lighter itself is really reliable even if it is a little difficult to adjust up or down. The only thing that keeps this lighter from getting a perfect score is its plastic construction and the effort that is required to adjust the flame. I quit trying to adjust it because I was afraid I was going to break it while adjusting it. And while the biner clip is nice, it's not all that sturdy. If you have this thing hanging off you somewhere and it were to get snagged, that plastic biner could break without you knowing it and leave you in desperate need of fire. Not that big a deal for most smokers, I personally don't leave the house without two lighters. But what if I still carry two but also clip this one somewhere and just sort of forget about it? Now, you see, I got a backup to my backup.
Product: Luxury Butane Torch Lighter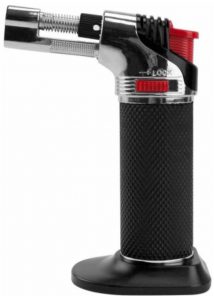 Place of Purchase: Walmart
Fuel Type: Butane
Warranty: N/A
Cons: Quit working after second refueling, lock switch
Pros: Came fueled
My Rating: 5.5 out of 10
This lighter did alright for a couple fuelings, then just completely crapped out on me. The little electro spark mechanism still works and when you pull the trigger it sounds like gas is flowing out but no matter how I adjust it, it will not light. It's too bad because it really seemed like a solid lighter at first. I will say this, this lighter has a feature that I'm not sure that I want a lighter to have. This Luxury Butane Torch Lighter has a lock feature that allows you to ignite the flame and then lock the valve open. I've had more than one fire in my hands and "locking" the fuel valve open on a lighter just seems like a bad idea to me.
Product: Ultimate Survival Technologies Wayfinder Lighter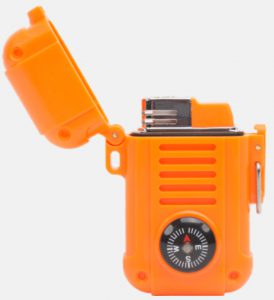 Place of Purchase: Amazon
Fuel Type: Butane
Warranty: 2 Year
Cons: Plastic construction, very difficult to adjust
Pros: Dependable, sturdy, locks shut
My Rating: 9.5 out of 10
I like this lighter a lot. And really the only thing I count against this one is the near impossible ability to adjust the jet. Yes, it's made of plastic on the outside and you all know how I feel about plastic but this lighter feels really sturdy. It has a metal clip that holds the lid securely closed. And when you unclip it, you still have to push a little spring-loaded button for the lid to pop open and expose the igniter button. It also has a compass and lanyard loop, giving it added versatility. If you're a deer hunter, this is a great lighter for you! Perfect color, dependable light for your cigarette(if that's what you call it) and there's a compass in case you get lost. I know a lot of hunters and I have been a hunter all my life. One thing I think we all have in common is our life may have never been dependent on us having a compass on hand but there's been a handful of times that a compass would've come in pretty handy.
Product: Spark 4-in-1 Multi-tool Lighter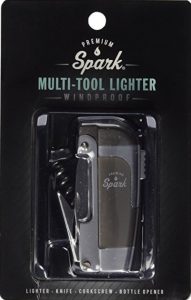 Place of Purchase: Amazon
Fuel Type: Butane
Warranty: N/A
Cons: Cheap tools, wouldn't refuel
Pros: Came fueled, worked great until it ran out of fuel
My Rating: 5 out of 10
The Premium Spark 4-in-1 is a nice idea and properly executed, could have worked. A sort of latter-day Swiss Army knife of lighters. And it feels solid in the hand but the first time you try to use one of those tools that's attached, you'll likely find it inferior in quality to plastic cutlery. It's just cheaply made and while the lighter initially worked well, when it ran out of fuel I never could get it to refuel.
Summary
I can recommend the Ronson Jetlite Butane Torch Lighter without question or regard to taste. It is simply the best value on the highest quality available on the market today. You will never go wrong carrying a Ronson in your pocket.
Both UST Ultimate Survival Technologies lighters are well worth the money. They are quality-made, I'm just not a fan of plastic when it can be avoided.
The other two, the Luxury Torch and Premium Spark, I would not purchase again. They were cheaply made and while they would be better than nothing, they would not be any more reliable.
Please leave any comments or questions at the bottom of the page or email or text anytime,
Joseph
bossman@dependableflame.com
(405)693-5678