The Genesis 
The design of the Zippo lighter is as simple as it is genius. It is this design(among other things) that inspired DEPENDABLEFLAME.COM. We aim to highlight products and ideas that are timeless. Devices and gadgets and projects that are worth the effort in any generation or age. We believe that some aspects of all our lives have become too disposable. No one seems to want to fix anything anymore. But disposable is seldom responsible…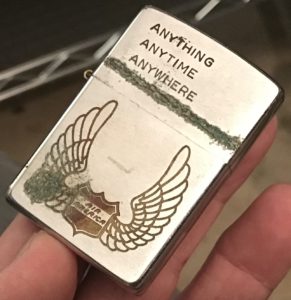 The World We Live In
Everyone says they're worried about the environment but appear bewitched by the convenience of all today's plastic products. A can of Zippo fuel would last most smokers for yrs. So, they would save money and not contribute to the consumption of all the damn plastic.
There's also the issue of how the legalization of cannabis(both medical and recreational) and industrial hemp(ever hear of the Marihuana Tax Act of 1937?) could revolutionize our society as we see more and more the dangers of relying on chemicals and plastics which pollute our minds, our bodies and the environment we ALL share.
Cannabis can provide help for many currently suffering from opioid addiction and many other medical and psychological ailments, a crop for farmers who have ground to sow and a revenue source for the government to tax. Literally…everyone…wins
Zippo, Leatherman, Case. Just a few examples of quality, American made, durable tools and products. Real tools that if they're treated right(and often even if they're not) will last your lifetime and probably be passed down again by whomever you leave them to.
This page is dedicated to my father, who always had the right tool.
Please direct ANY questions, comments or suggestions to: bossman@dependableflame.com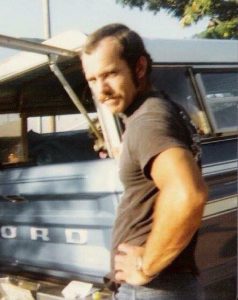 The man in the photograph above is my father. He was the most capable man I ever met. In that photo, I believe he is in his late twenties. He is strong, quick-witted and sure of himself. He is at the peak of health both physically and mentally. He'll go on about his business for another 25 yrs before he suffers any apparent symptoms of a disease that was just as present the day of that photo as it was the day it killed him. But before it killed him, it took us all down a long and painful road. I thank God the Father of my Lord Jesus Christ every day that this nasty disease no longer plagues him. My father died from Huntington's Disease. And he was always going to die from Huntington's Disease as long as something else didn't kill him first.
There are, however, promising treatments being studied…
10% of ALL our Ebay sales Benefit HDSA-Huntington's Disease Society of America
We also have a new feature auction every 10 days where 100% goes to HDSA!