The purpose of this page is to have a centralized location from which DependableFlame.com readers can access resources which are discussed in an article, YouTube video, Ebay listing or other content. I get many questions via the comments section and email relating to methods, materials and tools needed for vintage lighter repair. Some of these links are simply informational and can help you down the road to gaining a blueprint or a better understanding of how petrol lighters work.
Some of these links lead to Amazon, Ebay or some other affiliate website where you can purchase the products we have discussed. If you click through these links and make a purchase, DependableFlame.com will earn commissions from these sales.
Hands down, the best vintage lighter page out there. I am forever indebted to he and his collaborators. When I need information on an old cigarette lighter, this is the first place I look.
CLICK HERE to see the Evans ad archived on the Toledo-Bend VCL site referenced in the Evans Mechanism article.
1954 Lighter Repair Manual: this link leads to a web friendly version of the manual on the Toledo-Bend VCL site. The repair manual was a paper book back in the day that was available to jewelers, watch repairman and others when ordering kits of repair parts for cigarette lighters.
An outstanding online museum featuring lighters arranged in various categories including country of manufacture, technique and a very long list of Dunhill lighters.
Our YouTube friend miiigoreng has been busy lately publishing information about old Zippo wicks and Zippo & Ronson advertising in addition to his show and tell videos. Check out his site and show him your support!
There's a nice gentleman I met on Facebook who I have conversed and traded with who works on many butane lighters and has his own website: LighterFix.dk where he sells lighters. Donald speaks Danish as his first language but says just ask if you have any problem understanding him. I speak nothing but Okie dialect English and have always understood Donald's English just fine.
Links to Purchase Flint, Fuel, Wicks, Etc.
(As an Amazon Associate, I earn from qualifying purchases.)
Many times you will not be able to reuse the old wadding  pulled out of the lighter. This organic cotton coil is a good replacement.
Zippo fuel, flint and wicks will work in the vast majority of petrol lighters, especially the flip-top, Zippo style. 
Vector Butane is a good choice for vintage gas lighters as it comes with refill adaptors that enable you to fill a variety of gas valves.
Specific Dunhill flints are called for by particular models.
If you are unsure what fuel or other supplies your lighter requires, leave a comment below and I'll get you going in the right direction.
Ebay Links To Vintage Lighter Supplies
(As a member of the Ebay Partner Network, I earn from qualifying purchases.)
Vintage Auermetall Lighter Flints that may work better in some vintage cigarette lighters.

Wire lead(or IMCO) wicks similar to the old Ronson wicks. These work best in lighters with a wick chimney.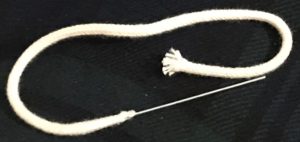 Old Ronson Wicks available on Ebay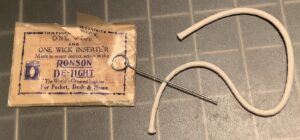 This Ebay seller, based in the Untied Kingdom, offers wicks of varying diameters.

Hemp Wick Links
Hemp wick can be lit off your lighter flame and then used to light what you are actually smoking. This keeps the fuel necessary for your lighter to work clear of your lungs which is distasteful to some.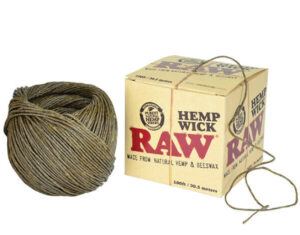 They have a whole page and a few charts to help you sort out the yr your Zippo was made.