Correspondence with a fellow Ebay user once again blows my mind.
What's In A Name
I have lost track of the number of lighter repair videos I've done for Evans automatic lighters. That being the case, I thought I knew the nomenclature well enough to sufficiently describe them. I've always known I was confused about the model names for many of the lighters produced by the Evans Case Company. The company was located in North Attleboro, Massachusetts which I would have never known from simply handling Evans lighters because they were terrible at marking their lighters.
As I sit here writing, I can't recall seeing an Evans actually marked and identified on the base. I do remember seeing some fuel or flint spring screws that were marked with EVANS, SPITFIRE, patent numbers or in some case the mechanism name, Trig-a-lite. I also know for a fact that Evans produced a model called the Spitfire. But did they really?
So, imagine my confusion and dismay this past weekend when I received a message from an Ebay user telling me the Evans Banner(I think that's the correct model name, more on that later.LOL!) I had just listed and identified as a Trig-a-lite mechanism was actually a Spitfire mechanism! They included a link to the Toledo-Bend VCL page for Evans lighters which I was very familiar with but the moment I saw the graphic at the top of the page identifying the different Evans mechanisms, some vestigial conundrum arose in my brain.
Let's Look At That Again…
I had stared at that graphic multiple times before and somehow confirmed my ignorance rather than grasp what was clearly laid out. I don't have permission to reprint images from the Toledo-Bend VCL site but you can find a link to it and the specific Evans page here. Well, maybe it wasn't so clear as the photos are positioned and labeled with the mechanism name and years that it was produced but it's a little misleading the way the site has labeled the photos for the Clipper and Spitfire mechanisms.
Taking hold of the fact that Spitfire was an actual mechanism name though, was the first light bulb of realization that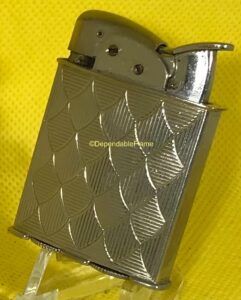 occurred leading to what I hope is now a full grasp of the subject at hand(wink, wink). I was still wrestling with the fact that the Trig-a-lite and Spitfire mechanisms(I have never owned a Roller Bearing model for reference and the Clipper is a different, semi-automatic mechanism) appeared to have parts that could be swapped inter-changeably. I'm not sure why this caused such a road-block in my brain as I have read the 1954 Lighter Repair Manual and used and continue to explore it considerably.
The 1954 Lighter Repair Manual
The Evans portion of the repair manual talks about replacing "old style" parts with new, specifically for the "Trig-a-lite". It actually refers to the Trig-a-lite model! The manual shows an illustration of a "TRIG-A-LITE" EVANS LIGHTER that looks identical to the lighter identified on the Toledo-Bend site as the Roller Bearing mechanism. Now I know why I was so confused! In fairness though, I'm not even sure Evans had actual model names back then.
Getting back to the repair videos though, I had once replaced fulcrum screws in a wobbly Trig-a-lite mechanism lighter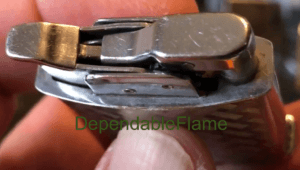 with rivets that I had taken out of a later produced Evans. I had gotten the idea from reading the repair manual where it talks about replacing the old style parts with new. That fact alone should have kept the interchangeability of the parts from the differently dubbed mechanisms from becoming an impediment in my brain but what can I tell you?
What seems apparent to me now is the parts will work just fine across all three automatic Evans lighters and while I agreed with the Ebay user that the Toledo-Bend VCL site identified the hidden rivet, third version as the Spitfire Mechanism, I was still not one hundred percent certain because I had not seen that confirmed in advertisements, catalogs, etc.
Lighter Library
I went over and checked out the archived Evans advertisements at my favorite website for that sort of material. The Lighter Library has many entries to look through and they are cleanly organized and easily maneuverable. I found an ad showing Evans pocket lighters of this supposed "Spitfire" period being referred to simply as the Evans Automatic Lighter. Well, that didn't help me much because they can all rightly be called that!
Another scratch, a grating nuisance or glimmer of hope from somewhere in the back of my brain. I seemed to recall the Toledo-Bend site having some archived advertisements but the hosting of the site had gotten screwed up for a considerable amount of time a while back and I hadn't even thought of checking them out since the site had been back up and running at full strength with all the links functioning properly.
So, I marched my ass right back over to the Toledo-Bend site just hoping to find something to confirm this "Spitfire" designation but certain I had some searching ahead before I discovered it.
Eureka!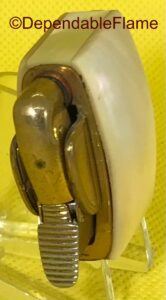 First of all, let me just say thank you to Frank Dutton along with any and all collaborators for putting up such a fine tool for the cigarette lighter hobby to have available. It is the site I can't do without. I'm being a little facetious because we actually did without the Toledo-Bend VCL site for what seemed like yrs just a couple ago.
I am thrilled to have it back and relieved I thought to check on this occasion as the very first ad(there are tons of others archived) I opened up from 1941 confirmed what my fine Ebay friend had clued me in on: Evans used the Spitfire designation for way more than just the round lighter that we all know about. Now I am starting to wonder whether Spitfire was an actual model or were those round lighters just the only ones that Evans managed to mark with the mechanism name "Spitfire"?
We know(or maybe I should say I thought I knew) Evans marked some base screws with the Trig-a-lite designation. Was that a model or mechanism name or both?
I also want to thank the Lighter Library(there's a link for it here too) for the work they are doing and encourage DependableFlame readers to check out all those vintage lighter sites linked on the Helpful Lighter Related Links page. I may need to reorganize some of those links to make it more user-friendly. I will also try to link to more of my favorite petrol lighter sites soon but there are several already there for you to start with.
If you have a significant lighter collection, maybe you should start a site of you own. it's a big world with plenty of room for all of us to share.
Please feel free to join the conversation at the bottom of this or any other page on the site. I'm certain that my explanations and meanderings have made the subject clear as mud, so you might be bailing me out of another embarrassing situation and quelling the suffering of the curious Evans enthusiasts everywhere!
Please post all your lighter repair questions on the DependableFlame Facebook page. That is the most convenient and quickest way to get me attention!
We're on YouTube every weekday morning at 8am central.
Until next time…