Or perhaps as one Oklahoma City sportscaster likes to say, "a different breed of cat…" While it has similarities and many of the parts look familiar, the Ronson Debonair stands apart from its Art Metal Works kindred both in function and design.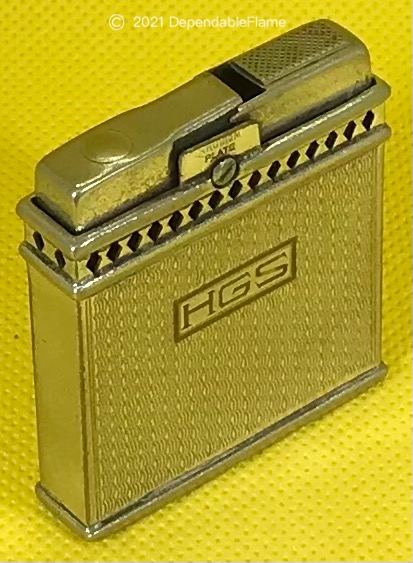 My Initial Impressions
The Ronson Debonair Automatic Petrol Lighter looks like a fortress. It has a very solid base, which is rare for a pocket lighter but seems even more scarce among the multitude of Ronson models that fill flea markets, garage sales, Ebay and the like.
Something about the oval shape of the bottom of the average Ronson Standard type lighter makes it more difficult to manipulate the plunger mechanism, whether it is seated flat on a table or held cradled in one hand.
I've seen videos of a person lighting a Ronson as it sits on a table by just pushing the thumb lever down easily with one finger. I'm not saying it isn't possible because I've done it many times. I have even made similar videos myself. But that oval base makes it very hard to do consistently and holding the lighter in one hand has pitfalls of its own.
Not everyone has carpal tunnel, wrist or hand problems but for those that do, working these small automatic mechanisms with one hand can be a struggle. They are oval bottomed and very thin in the profile so that they want to go sideways in the hand if they are not manipulated properly.
The Ronson Debonair does not exhibit these same tendencies in the slightest. It feels solid from side to side as the thumb lever is depressed. It lights with authority, leaving no doubts whether you'll be able to toke or not. Like a repeating arm, hydraulic piston or a precision tack driver, it simply performs.
Art Deco Elements
The built-in windscreen design has both an aesthetic and functional appeal. The diamond shaped cutouts that form the windscreen stand in contrast and embellish the engine turned design on the body of the lighter.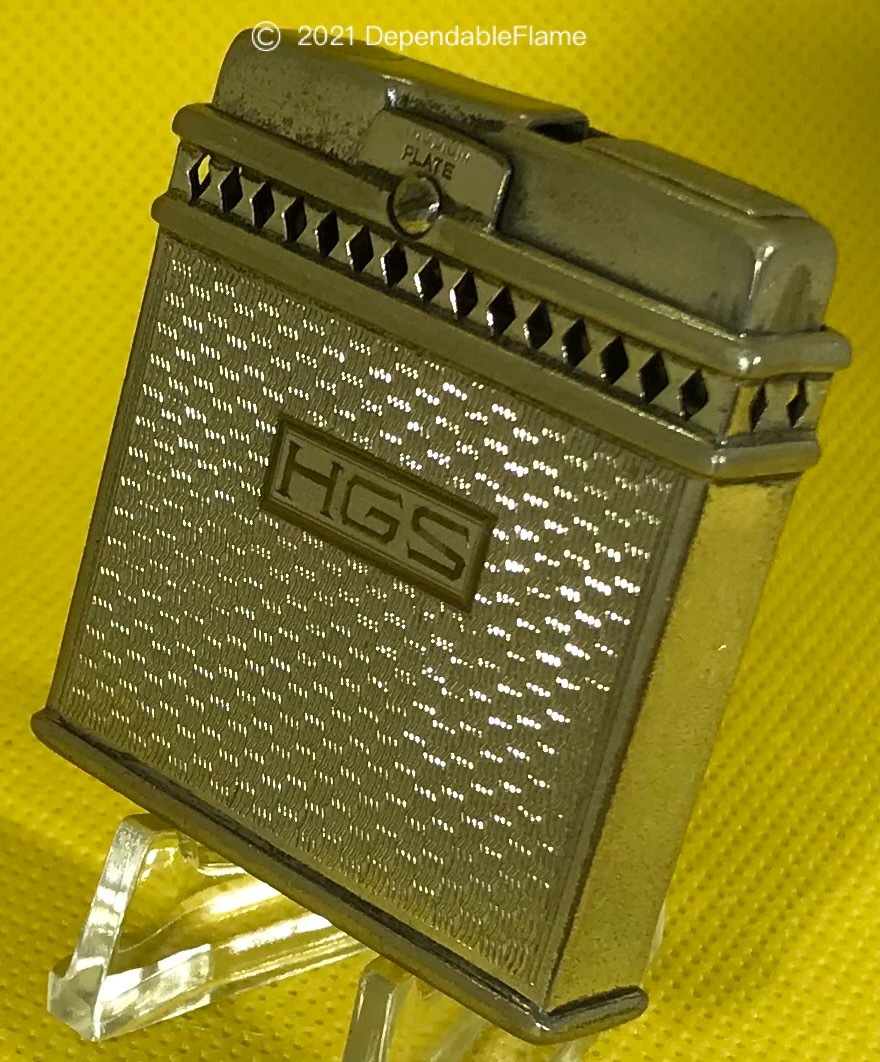 This particular Debonair shows several dents and dings including some to the body of the lighter on the engine turned design. This will definitely affect the value of the lighter. It does not, however, dull my enthusiasm for the amount the lighter will still manage to fetch on Ebay. It is as handsome a lighter as I've ever handled despite its imperfections.
And aesthetic appeal is important but not nearly is important as how well a lighter works. After all, if these things didn't make fire we would all just be collecting tiny statues and sculptures, maybe playing action figures like children.
Function
I mentioned above that the integrated windscreen aids to the function of the lighter but it actually helps in at least a couple of ways.
Lighting a petrol lighter requires just the right mixture of fuel and air be present when the ignition is sparked. There are many lighter designs out there that for one reason or another do not necessarily promote the proper mixture of fuel and oxygen for ignition to occur.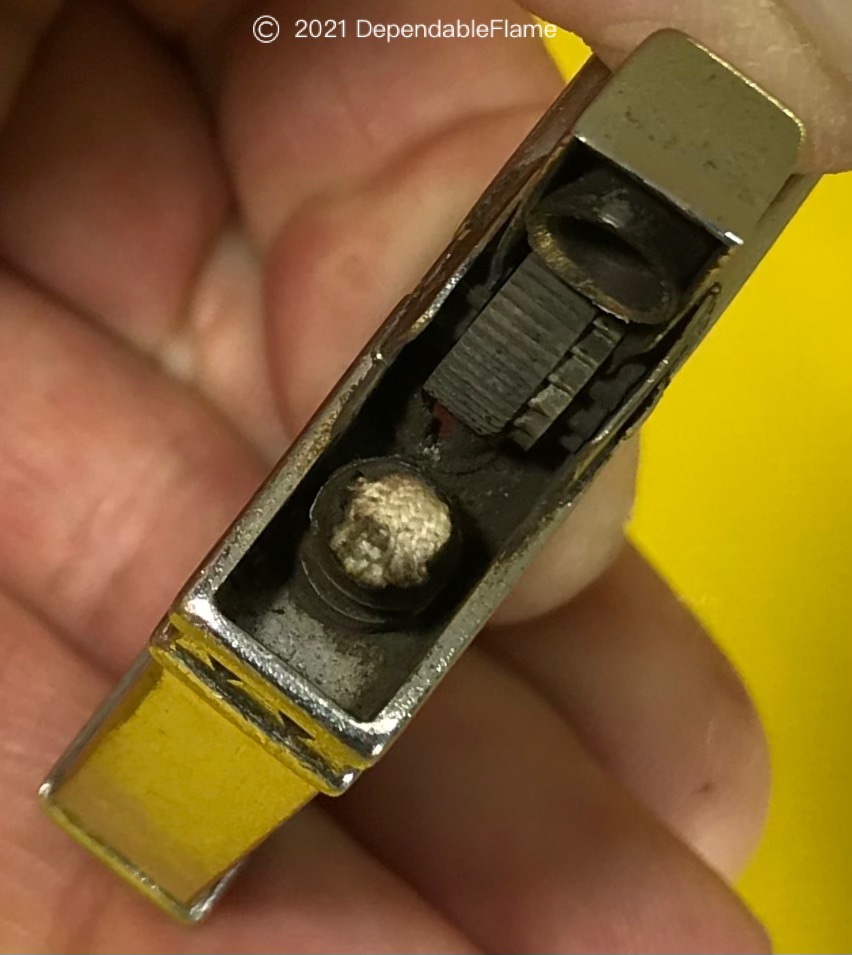 Maybe the lighter is starved for oxygen or(especially in the absence of a snuffer cap) it could have so much air that it has dried out. This can result in lighters being "vapor locked" or fuel blowing the spark out and away from the wick acne other problems.
The ignition area of the Debonair is recessed, formed by the windscreen and appears to provide a panacea for pyrophoric success. Time after time, whether in my hand or setting on a table it lights exactly like it is supposed to.
Variety Of Finishes And Enameled Designs
The Debonair came in many different plated finishes. This lighter is marked "RHODIUM PLATE".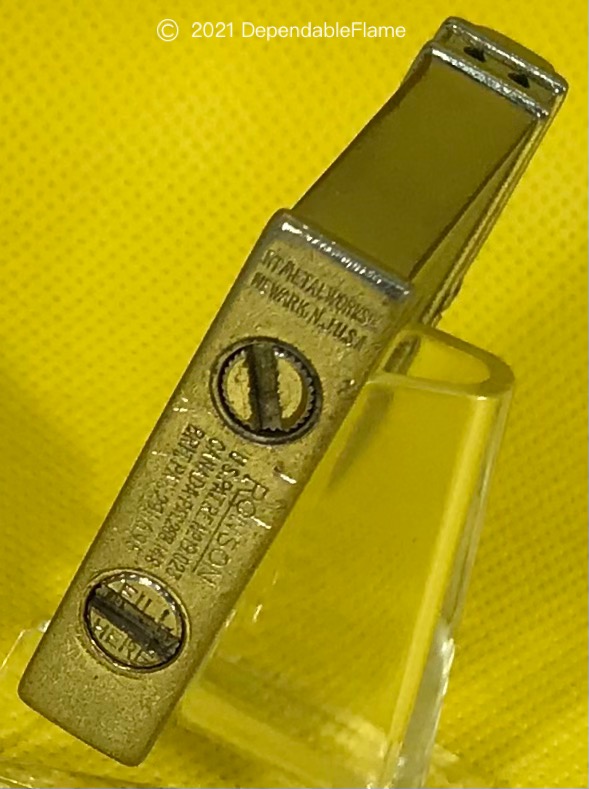 I had never really paid attention to rhodium before but according to Wikipedia, it is a member of the platinum group and a quick Google search taught me it is about ten times more valuable than gold. I'm not sure what any of that means in the vintage lighter market, where lighters constructed of solid gold are regularly sold for less than melt-down value. It never hurts to have the information though.
I mentioned the engine turned designs earlier but Ronson embellished these lighters with many different enameled schemes as well. I don't recall seeing a Debonair made of any solid precious metal. They were only manufactured for a few yrs, from the early to mid '30s, so maybe there just aren't many out there.
My Favorite Ronson Thus Far
Grinding the flint to ignite the Debonair feels akin to starting a gas powered chain saw. It feels powerful like it was built to do one thing and stoutness wasn't going to be its failure.
I am very fond of Ronson lighters in general despite what I perceive to be functional shortcomings in the articulation of the mechanism in relation to the ergonomic characteristics exhibited by most of their designs.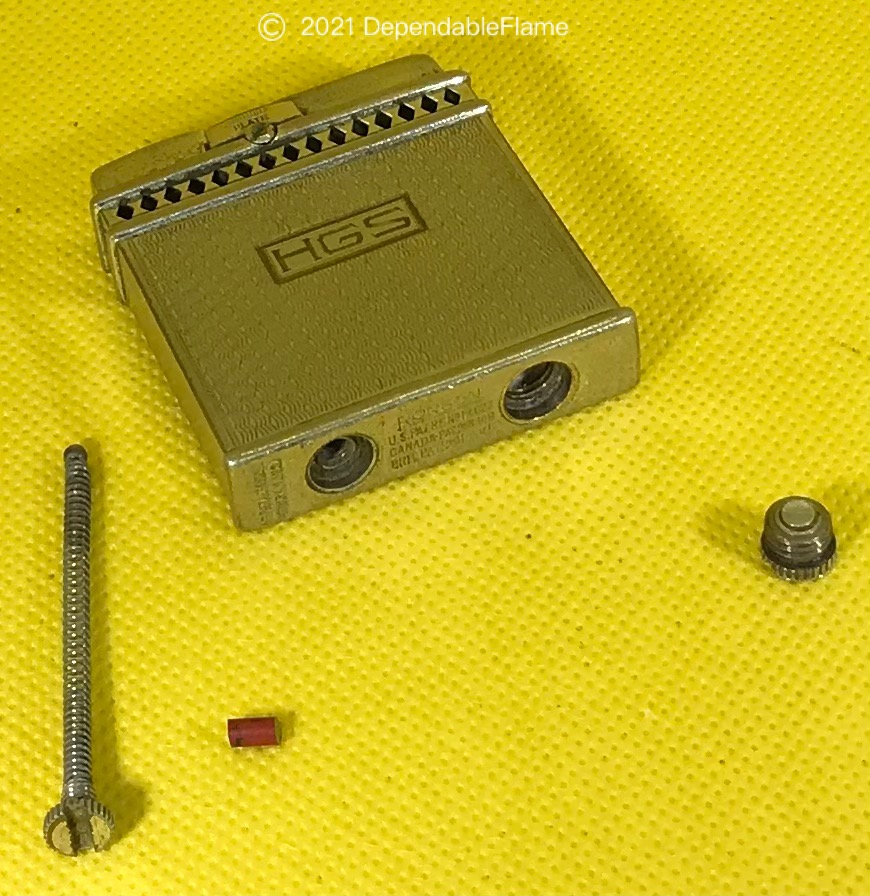 I like the way they look and the way a collector could get lost gathering a particular lighter with every variation or option that Ronson offered. I like the way they function, I just wish they felt more stable as the mechanism is being worked and that is the exact reason the Debonair is my favorite of all the Ronson automatic lighters.
It is an extremely reliable lighter whose file wheel showers the wick with sparks the likes of which have rarely been seen. Its wide, long, flat base feels perfect in the hand while also providing the perfect foundation for table ignition. It is handsome, the sheer opposite of plain. It's a lighter that belongs in any petrol lighter enthusiast's collection.
Please check out and subscribe to the DependableFlame YouTube channel, if you haven't already. There's a lot of exciting stuff going on over there including a new video every weekday morning and useful discussion about vintage petrol lighters with other collectors, viewers and lighter users from around the world.
You can always leave a comment on any page of this site, just scroll to the bottom.
Also follow DependableFlame.com and post photos for your lighter questions on our Facebook page!
Until next time.✌️