With its unique thumb roller flint spring tension mechanism, the Penguin Cygnus petrol lighter stands out not only in the under-rated realm of Japanese made vintage lighters but in the vintage cigarette lighter world at large.
Estate Sale Find
The first Cygnus petrol lighter I recall seeing was in an online estate auction being offered with a group of four or five other items, one of the other items being a Thorens Single Claw. I was pretty green at identifying cigarette lighters at the time and it did remind me of the Dunhill Rollalite(I can't recall if I'd actually owned a Rollalite at the time) but I noticed the novel thumb roller to the back and was intrigued.
This listing may or may not have also contained the first Thorens that I owned, definitely within the first couple of them. I was very interested in Thorens lighters of any kind so for the price I was able to buy this listing, it was a no-brainer and the Cygnus was more a curiosity than anything. I have since sold three of the items including the Cygnus and Thorens but still have the other three knocking around here somewhere.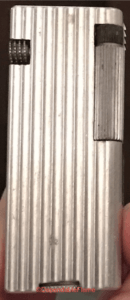 I made my money back sufficiently enough on the Thorens to wait and not fret too much about the knife and Cygnus, just price them a little high and wait until they sell for that or almost the ask. I think I ended up holding that lighter in my inventory for well over a year before I let it go for about $35.
Roller, Small & Table Models
Like most petrol lighters that were manufactured in the middle of the last century, the Cygnus was available in a few different models, regular or standard(men's), small or petite(lady's) and table. That first Cygnus that I owned was of the regular variety standing 2 7/16″ or just under two and a half inches.

The small version is 1 15/16″ tall or just short of two inches. I have been looking at and collecting these lighters for a while now and it is still very difficult for me to tell the difference between the regular and small versions if they are not sitting beside each other or a ruler. The small version, however, would never be confused with the regular in your hand as its short stature makes it much more difficult to manipulate and ignite one-handed.
Table versions are much taller and thicker in general, these came with bases that were round or horseshoe shaped. I have seen listings or stories about Cygnus table lighters in the shape of at least two different buildings, as well. There are also standard size lighters that were affixed to a rectangular base, making them a table lighter.
Advertising and Enameled Examples
The front spine of that first Cygnus was engraved Remington Rand INC. As I said earlier, I was pretty new to all of this at the time and the advertising confused me and kind of turned me off.

I wasn't used to aluminum block lighters being marked and now here was one with markings all over it and some of it was for a company I didn't care anything about. Anyway, I have matured a little in my appreciation for vintage advertising on old lighters. Hell, I'll buy a Cygnus today precisely because there is advertising on it that I haven't previously encountered.
Besides engravings and emblems for advertising purposes, Cygnus lighters were also embellished with enameled Japanese imagery. I have one such lighter that is painted on both sides.
I have also seen at least two with painted or otherwise embellished tiles that run the length of one side of the lighter. One of those however, a gold example with an Egyptian motif that I own, is marked CORNWALL SLIMLINE, not Cygnus. I call that Cygnus-adjacent.
Anodized Color Variations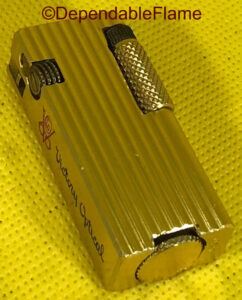 Cygnus petrol lighters are aluminum block lighters and therefore anodized. From what I can gather, anodizing is a process similar to plating in that it uses chemicals and electric current to treat the surface of the metal. This apparently gives the aluminum a more durable finish and perhaps has some other benefits as well.
Anodizing also allows aluminum to be finished in a variety of colors. My ignorance of the process aside, I am a huge fan of anodized aluminum lighters. Some colors produced by the process are absolutely stunning.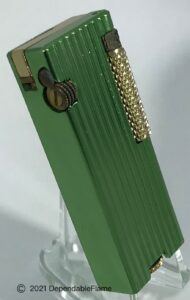 As an example I have included photos of this rich green and gold Cygnus that sits right at the top of my collection. I bought that lighter unidentified in a group of about ten lighters and that emerald green anodized color had me transfixed!
I have seen Cygnus in silver, gold, green, blue and black anodizing. I also own a lighter marked Prince with a different patent but looks just like a Cygnus that is a rose gold tone. Again, Cygnus-Adjacent.
Happy Collecting!
That first Remington Rand advertising lighter is responsible for the love I have for all things Cygnus today. It introduced me to that beautiful flint mechanism, the spare flint compartment in the fill screw and a handsome roller lighter that's affordable enough for anyone to use or collect. I wish I still had it now that I have begun to collect these curious little lighters.
At the time though, I wasn't a collector. I was just trying to pay the bills.
As I was writing this article, the mailman walked across my yard and deposited today's mail into my box. There's another Penguin Cygnus petrol lighter in one of those packages and it's been all I could do not to drop what I'm doing and go tear that package open. There are two more that should arrive(separately) by the end of the week. There seems to be no bottom to this rabbit hole I've dropped down but I'm not complaining.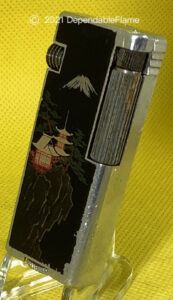 For many collectors, that's what fuels them, finding that special lighter they lost or always wanted or once prized but was stolen or perhaps they never owned it at all, just always dreamed it theirs. It would be cool to run across another one and you can bet when that listing appears, I'll be right there buying or placing my bid.
You can find me on YouTube every weekday morning, demonstrating how to repair petrol lighters, showing them off for potential Ebay customers or generally promulgating their existence along with some ashtrays, tobacciana and other useful mechanisms.
I try to answer all emails but am forgetful sometimes so don't hesitate to email again, the squeaky wheel gets the grease! Just rememeber, I DO NOT WORK ON BUTANE LIGHTERS! YouTube comments get easily lost in their anti-spam system. If I don't respond to a YouTube comment, post it on the DependableFlame Facebook page or email.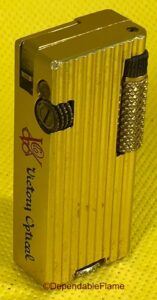 We are currently up to forty-something Ebay listings that you can access through the Current Ebay Listings page here at DependableFlame.com. We earn a commission when you make a purchase on Ebay by clicking those links but your price will not be affected regardless how you arrive there to make your purchase.
This is also the time of year for The TEAM HOPE Walks, in support of HDSA-Huntington's Disease Society of America, to take place across the country. This is a cause that my family has been involved with since my father's diagnosis in 2010 and DependableFlame.com has supported through charitable auctions from our inception. If you are able, check out and support a walk in your area.
Until next time…✌️