From an item I have had in my possession since at least the 1980s to some others more recently acquired, accumulated relics can be difficult to categorize.
Family Heirlooms
The Leavens Manufacturing Company watch fob advertising CATERPILLAR and the Hoover Equipment Company of Oklahoma City, Altus and Woodward is an item I am glad to display along with some related lighters and other paraphernalia that are linked to and remind me of precious family members, many whom have now passed.
My Uncle Dave(my Dad's brother, closest to him both in age and life) gave me the watch fob some time during my adolescence and I have treasured it ever since. I have never done anything with it, never carried a pocket watch. It represents a man I never knew and was named after though we did not share a legal name. His legal name was Columbus but apparently everyone simply called him Joe.
I was told he was hospitalized for cancer which he supposedly beat but contracted pneumonia which killed him in the meantime. I drive or walk by that hospital every day but I never really thought about him dying there all those yrs ago until I sat down to write about him for this article.
My father's relationship with his father was important to him and I always knew that. He took the time when we were kids to tell stories about the man he admired, who took him squirrel hunting and fishing every chance he got. I learned about the man from my uncles as well, evidenced by the heirloom that once belonged to him and the stories of drinking sulfur water and sharecropping in New Mexico.
On The Hunt
The pandemic has wrecked havoc on business owner's ability to keep the public informed of their hours via Google. Antique store businesses are no different, so a trip to eastern Oklahoma County on Tuesday required an audible be called when the shop we had been to on Tuesdays before welcomed us with a dimmed "open" sign as we pulled into the parking lot.
That shop owner's loss though was another favorite's gain as we rallied to check out a facility we have visited many times and includes a few of the carousel, push button cases I enjoy so much and a nook and cranny or two I always like to browse.
I found a very nice, petite Brotherlite Lucerne lighter with really nice paint. It was a tremendously attractive lighter with several colors of paint and a slightly ugly price tag which precluded me from buying what every ounce of me other than my wallet screamed I should.
One of the rotating machines contained a flat ad lighter for the Tower Club in Oklahoma City. It was in great condition but looked like a sort of synthetic, vinyl type material the advertising was printed on. The image on the lighter was two toned, contrasting white and green. It too was priced a little high for serious consideration.
Also, a handful of various misfit, junk lighters that for one reason or several others were not fit to be purchased. An aluminum block missing the flint spring and screw, a beat up Nimrod tube lighter, a few cases; all priced and conditioned to keep my money in my pocket.
Doing My Job(One Of Them Anyway!)
Where the heirlooms will never be sold, I currently have a few items I should have never kept in the first place. I see so much cool stuff and I like almost all of it so it is easy to accumulate items on the side over here or put the ones I still need to think a little more about over there, then the next thing you know there is a backlog to unsnarl.
So, I have been listing some of these backed up, favorite items and hope you will check out those listings. There are some items you don't see every day like the enameled cigarette case I listed last week and some others you may never see again such as the ashtray/table lighter combination.
The only reason I've kept any of these items as long as I have I they are so cool, I just don't feel I will ever get out of them the value they are truly worth. Whatever the case, they are listed now and I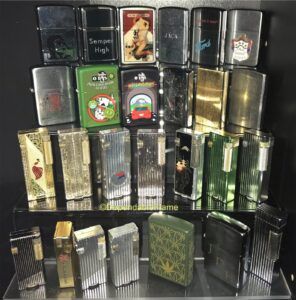 hope they find a buyer soon.
I am also creating a new page here at DependableFlame.com where I can post links to Ebay listings that I find of a particular interest. My main reason for this page is sharing Ebay listings that I run across that I feel you need to see. As such we will call this page Notable Listings From Other Ebay Sellers.
These listings may contain a lighter that doesn't come up very often or may just be fun to follow along with. Some may relate topically to something going on in the hobby in general while others I might simply get a kick out of. Remember, just like all the Ebay links employed at DependableFlame.com, I earn a commission any time you click through those links and make a qualifying purchase.
What Suits Our Fancy
Sometimes an image catching my eye alone is enough to cause me to purchase a particular lighter. The WARCO petrol lighter advertising LYCO and featuring a depiction of a very sad potato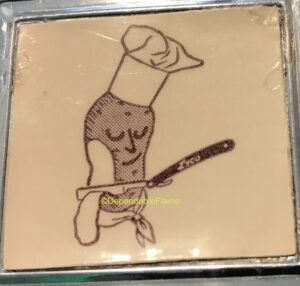 being peeled and wearing a chef's hat was just that sort of buy. I'm glad there weren't many other bidders watching.
It was listed in an Ebay auction with two other old ad lighters as 'bizarre" group of petrol lighters or something like that. It also included the Multiwall Man and Unitized TV lighters you have seen on the YouTube channel.
This reminds me, our friend Kamren Hatfield commented below the Multiwall Man video to provide information that indicates the product was your basic flour or sugar bag. Enlightening details I am glad to have as the response for the character on that lighter had been all over the place.
The image of the potato being peeled by a blade of some sort and wearing a rather large chef's hat caught my attention immediately. It's a funny and pathetic image as the potato's mood is most certainly dour. You'd think he would fight back but just looks resigned to his fate. I read some this week about having a sense of impending doom but this guy looks like the sentence has already been passed.
SHARPO By Josephson & Sharp
The Josephson & Sharp SHARPO lighter is the most well executed design of an aluminum block petrol lighter I have encountered except for the Penguin Cygnus. My love for the Cygnus lighter is well documented at this point so this should not be seen as a strike against the Sharpo which is constructed with very tight tolerances and quality controls unseen in your typical aluminum lighter.
Precision was the term I reflected on most when inspecting and using the first example I owned, a really cool Armor advertising model. Even the way the snuffer hinge pin is concealed within the machined design is rather impressive.
The base stands out for being marked so well but that is just par for the course regarding the Sharpo. It seems that every element of the lighter was given detailed thought both in design and finish and outran its contemporaries in every sense imaginable.
The flint spring screwdriver integrated into the fuel screw is a nice touch to what was already a standout component. The Sharpo is not the only aluminum block petrol lighter to get it right but they are right at the top of the list of those who did.
Help The Cause At DependableFlame!
Please leave any comments, questions or suggestions you have in the section below this article. It makes a huge difference for everything we are trying to accomplish when you interact with us here on the DependableFlame.com website. It is a perfectly appropriate place for you to leave any correspondence or message you would like to pass on as long as you don't need to post a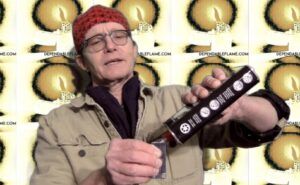 picture.
If you need to post a picture to illustrate your question or suggestion, the DependableFlame Facebook page or direct message function are both easy to use and readily available. Feel free to post you questions or trade offers on the page unless they are of a personal nature, then the direct message may be more appropriate.
Please subscribe and tell all your friends about the DependableFlame YouTube channel where we publish new video each weekday morning @8am central. Video ideas are always appreciated as well as criticism or alternative methods to what you find demonstrated at DependableFlame. Some of these methods I dreamed up all on my own, there are a couple I'm even proud of. More often, the repairs you see me make were built off the knowledge, work, experience, tricks, tips, etc. of someone else. So please, tell us what you know or what you want to know and we can all learn together!
Also, be watching Wednesday morning for an article on some of the fresh, new designs recently released by Zippo. They have several new designs featuring a subject near and dear to our heart!
Until next time…