Historically, The Zippo Manufacturing Company may have been hesitant to highlight the cannabis plant and at times, it still seems the word may be viewed as somewhat taboo but a handful of new designs for 2022 gives "leaf" lovers plenty to shop for.
Delivered To My Inbox
If you've ever been to the Zippo website, like many other sites you were probably greeted with the opportunity to supply them your email. I think the first time I was presented with this option, there was a discount offered on your first order from the site.
The discount is a nice enough enticement but if you are a Zippo fan then buckle up and get ready because let me tell you, they have a lot more going on with their email list than just some paltry one time discount! Be prepared to receive a steady flow of emails chock-full of your favorite collectible lighter and news about special events, new releases, and limited edition or "Web Only" Zippos.
I receive one or two emails a week in general. There have been times those emails notified of a limited edition lighter that went on sale at a particular time and ended up selling out in minutes. If you are the kind of collector who never wants to miss out on even the rarest of Zippo lighters being produced today then the email list is a no-brainer.
I have never once seen these emails as intrusive. Rather, they are a nice supplement and trade reading material alternative to the Facebook lighter groups and club newsletters that typically garner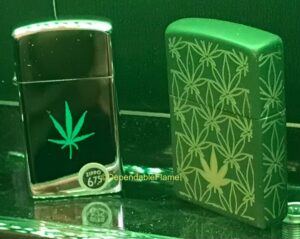 my attention.
So, when I opened the email over the weekend promoting Zippo's "Latest Batch Of Spring Summer Designs…" my interest was piqued. There were some 540 and Blacklight designs that were pretty cool but nothing really in my wheelhouse. There is limited space in an email though and the company has never seemed particularly proud of their affiliation with the greatest plant known to man. I would have to go to the Zippo website to get an answer to my question: Are there any new marijuana leaf design Zippo Windproof Lighters currently being released?
(As an Amazon Associate and member of the Ebay Partner Network, I earn from qualifying purchases. This means if you click through from a link on DependableFlame.com, we make a commission when you make a purchase.)
Zippo has a long history of printing cigarette advertising on their products. They did it right up until the law told them they couldn't anymore. I believe they may still allow it in Asian markets where the same consumer laws do not exist.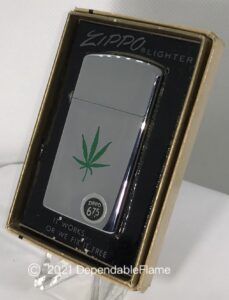 Cannabis on the other hand, seemed to be taboo. Old Zippo lighters featuring marijuana or the cannabis leaf are very hard to come by, few and far between or maybe just plain non-existent. I am sure there are examples out there of custom engraved or ordered cannabis artwork. Perhaps as part of a military or drug enforcement division of law enforcement emblem or other embellishment.
The plain green cannabis leaf design that Zippo produced around 1975-1976 seems to be the first simply put out by the company as part of their regular catalog of lighters. I am not an expert on Zippo lighters but when I say it was part of their catalog, I only mean it wasn't ordered or commissioned by a customer, rather Zippo produced it and then offered it for sale.
Even then, it doesn't appear very many were produced, corroborating the taboo status of the topic at the time. I have seen the design on both full size and Slim Zippos from the mid-70s. There has been a full size example for sale on Ebay in the last yr.
I have not encountered another Slim with the design since acquiring this one but there have been a few sell on Ebay over the yrs. Because there weren't many made, you can expect to pay a premium for a vintage cannabis leaf Zippo but what about the new designs that Zippo has in store for us?
This is definitely my favorite of the new bunch! It features opaque, shaded green accented leaves on an off-white background. It reminds me a lot of my five-sided etch leaf Zippo but also of the glow in the dark skull design a saw recently.

I have not owned a lighter done in the 540 Color Process so I can't speak to the durability of the finish or how one might wear if you decide to carry and use it. I can attest at least to the photographs of this lighter being very attractive. I want this lighter for myself!
It is not the brightest colors or "loudest" design but I would say it has an understated appeal. Where my 2017 etched leaf Zippo adds a bit of style to a session, this 540 with the cannabis leaves cascading atop each other is sure to lighten the mood.
The Zippo website has all of these new releases listed under the heading Cannabis Designs, where Amazon used the heading Zippo Leaf Lighters.
This lighter really makes use of the multi-color variations the 540 process brings to the table. While the colors are a little more drab than one might expect from a Rasta themed lighter, the way the background design blends colors provides a really defining effect on the leaves above.

The 540 process completely wraps the lighter case and I like how the colors are dark toward the base on this design and lighten as you move up the lighter. This is a lighter that will appeal broadly to supporters of the plant and not just those from a specific religious movement.
I like the contrast of the colors and I think they all work very well together. I must admit though, I don't really care for the cannabis leaf being presented so dark. I know they are many shades and perhaps not the emerald green we see in many depictions but they aren't often black without any definition either.
This is another really cool one and probably my second favorite. It features what appears to me to be a 1960s(judging from her hair at least) era woman wearing sunglasses that are reflecting cannabis leaves. She also has green lips and several pot leaves adorning her hair.

The really cool thing is this lighter also glows in the dark! Can you imagine the conversations that could possibly be set in motion when folks are enjoying their favorite plant and encounter this glow in the dark beauty? It is an eye-catcher and conversation starter for sure.
The Zippo website calls her a "cool connoisseur" and I would add a very stylish one at that. Something about it makes me think of beach party movies and old aunt's hair-dos in the 1970s.
I am trying to keep an open mind with this one but it is without a doubt my least favorite of these new offerings. I want to preface this by saying my opinion may be completely different if I actually had this lighter in my hand. It is done with the Texture Print process which looks like part of the design on the bottom, case portion of the lighter is raised for effect.

That seems like a cool idea but the pictures provided on both the Zippo website and Amazon make the lighter look really cheap to me. I'm not sure why the rest of the lighter is purple but it stands out in contrast to make the embellishment look make-shift.
I would have much rather seen the leaves cover the entire lighter. That would have been more interesting and not give the effect of reusing an old Crown Royal Zippo case. Again, I could be completely wrong about this one and look forward to actually having a lighter with the Texture Print process in my hands to judge more fairly.
I would give this subdued Tumbled Brass effort a sold B+. Nothing here looks out of place, the lighter would be at home in a purse or jean's watch pocket.

I will be interested to see how this lighter wears with use and think the tarnish that's likely to develop will give it a character that you miss out on with a painted lighter. I know there is some kind of this protective coat but the real fun will start when it has worn off.
The cannabis leaf on this one is not the most defined or detailed we have seen but I think that's just fine for this lighter(I would have liked to at least seen some veins on those Rasta leaves though!) It all sort of melds with the tumbled finish for a static effect that is really chill.
Let Us Hear From You!
I hope you have enjoyed this review of the new cannabis designs Zippo has to offer, along with a look back at an old marijuana leaf design.
Please leave any comments or questions you may have below this video. Questions and feedback I receive are the number one source for new ideas for articles to write or videos to make, so please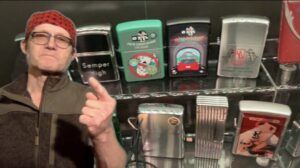 make your presence known!
Make sure to check out our YouTube channel where we publish new video every weekday morning @8am central.
Facebook is also a great place to leave us a message if you need to post a picture and you might as well go ahead and like the page while you are over there!
Until next time…