Thorens Single and Double Claw Lighters, when functioning properly, are a thing of beauty, Vintage Petrol Lighters That Were Built to Last.
Tiny Machines
It is pretty comical, in comparison to most of what is available on the market today, to consider the craft and workmanship that went into the design, function and feel of the Thorens Single and Double Claw Semi-Automatic Petrol Lighters. They are true works of art and ingenuity and I never waste an opportunity to add another Thorens lighter to my Ebay store.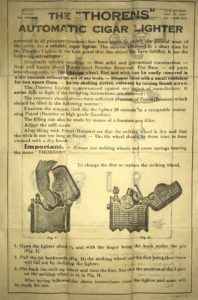 I don't want to get on a soapbox, if you like that sort of thing, you can read me on one here. But I will say that if you ever use a Thorens petrol lighter and see the magnificence in the way it works, shame would envelope you at the mere thought of purchasing a plastic lighter ever again. I mean it.
Thorens was responsible for manufacturing some very delicate, precise equipment such as music boxes and stereo turntables. The company is still around today but hasn't made cigarette lighters since the mid 1960s. Imagine all the detail and precision required to make music boxes and turntables, both relatively impressive feats, and then imagine applying those same qualities to a machine that does something so simple that man has been doing it since the dawn of time.
Single Claw
The Single Claw model was first with production beginning in 1913 and patent dates of February 3, 1914 and November 16, 1920. It was popular from the beginning for its cutout, asymmetrical design.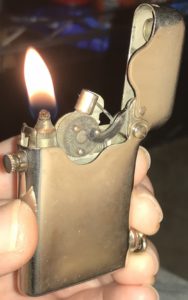 The flint mechanism is remarkably easy to access and, if obstructed by old, degraded or hardened flint, it is usually much more simple to clear than most other vintage petrol lighters. It is sort of a tube, like other lighters but being much shorter and open it is not as prone to moisture getting in and expanding the flint to the extent of causing actual damage. A lone long arm spring holds the flint in place against the file wheel.
The Single Claw pocket lighters had a closed tank fuel system that

minimizes evaporation and fill screws generally contained hidden storage for extra flint. The lighter is activated by a spring-loaded button that when screwed all the way in, can not ignite. Screwed out and depressed, the Single Claw mechanism(that's what it is, a single clawed arm that engages the file wheel when opened and ignites in one clean motion. I have owned several Single Claws and liked them all very much but in my opinion, the Double Claw is superior in every way.
Double Claw
In the late 1920s, the Thorens Double Claw Semi-Automatic Petrol Lighter was introduced and while some lament the loss of the unique cutout look of its predecessor, its robustness in opening suits it all the same. The Double Claw, in general, has a more solid, sturdy feel to it and when tuned right, never fails to light.
As the name points out, the cutout look was not the only change in the design of the Double Claw. Activating the button now engaged a claw arm on each side of the file wheel. The Double Claw lighters that I have owned have been unbelievably dependable and I marveled at the force with which the springs would snap the lighter open and flame appear.

Most Thorens lighters were made of chrome plated brass but there were Sterling Silver, Alpaca Silver and Nickel Silver models manufactured as well. Thorens offered lighters with enameled and jeweled finishes, leather, celluloid and other wraps and also silver motif sleeves. Engine turned models in various designs were, and remain, very desirable.
Outliers and Others
There were table models available in a variety of bases including porcelain, metal, wood, onyx and various other stones. Some table models vary slightly in one or perhaps, a couple different ways. Table models are usually fueled from the top and may or may not include actual filler screws as some use a sort of pinched sliding or rotating gate.
There are also some table or desk models that do not include the safety, screw-in activation button, rather the button is static and always able to activate. This makes perfect sense seeing how they're meant to set on a table or desk and are too big to even fit in most pockets. Very little chance of a table lighter lighting on "accident" and even if it does, it won't singe or leak fuel in your pocket.
Something else I'd like to mention is I believe both Single and Double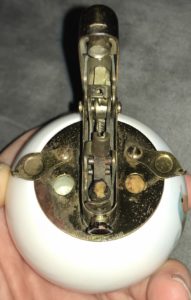 Claw models were available in a couple different sizes. In other words, men's and ladies models. There may have also been another size as I seem to recall seeing a Thorens Single Claw that had one flat end rather than both being rounded. I could be wrong though, that could be the ladies lighter.
What Is Your Favorite Vintage Lighter?
Do you have a favorite vintage petrol lighter that you would be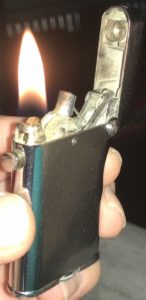 interested in reading more about? Drop me a note at the bottom of the page. I am constantly looking for different lighters to feature in a post. Ideas from readers like you can save me much time and wasted effort.
You can also check out the Lighters tab on the category menu. There are many articles there which you may find helpful if you are interested in vintage petrol lighters that were built to last.
I would also like to point you to join our email list. We have some great ideas for the email list as we get it up and running, so sign up to the right-hand side of the page and stay tuned. I promise you won't be disappointed.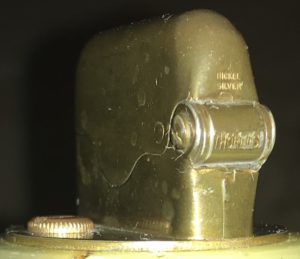 And lastly, I'd like to draw your attention to the YouTube videos embedded in this article. These and all other videos featured within an article on DependableFlame.com originate from our YouTube channel. Thus far, the channel is mostly video documentation that a lighter is in good working order. I am committed to documenting every vintage cigarette lighter that I put back into service. Hit the link above to subscribe to our channel.