One of the first articles I ever wrote for this website was about a Park Industries lighter made in Murfreesboro, Tennessee. I didn't know much about them back then and was mildly impressed but have since come to believe the older Park lighters made in Springfield, Illinois are legitimate hidden gems in the cigarette lighter hobby, both for collecting and putting to use.
Upon Further Review
My first encounter with a Park lighter was a brand new slim model with scotch whiskey advertising printed on the case. The lighter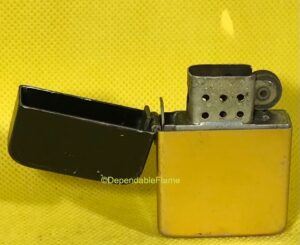 was still in the box with the original paperwork but the flint had degraded and clogged up the flint tube.
I was pretty green at the time and somewhat ignorant of how the "hobby" would view the condition of the lighter. Considering a tool had been employed upon it, I reasoned the lighter as no longer "new" so filled and lit it up! Today I would have simply noted the repair, left it unfueled and conditionally sold it as new.
This gave me valuable experience with a different kind of lighter though and I haven't stopped learning about them since. The 1940s era Storm King we are going to use for comparison(or perhaps it is my tool for persuasion!) in this article is an old beater of a case with a real standout of an insert that I have been carrying in my pocket for over a yr now.
I consider myself a Park collector although I have only kept a small portion of those that have passed through my hands. The question has surfaced often in my own ponderings and I've even seen it asked in the Facebook lighter groups: Are Storm King and Park Industries petrol lighters the same quality as Zippos?
A Substantial, Quality Insert
I start with the insert for two reasons: the cheaply constructed insert of the slim whiskey lighter was definitely a sticking point to me back then and the stoutness of the older PARK SHERMAN

marked insert in my EDC Storm King is its clear selling point.
The older insert is made of steel(I believe as a magnet sticks to it) as opposed to aluminum from which the newer slim was constructed. There is an excellent article on the Toledo-Bend VCL site explaining how the company was purchased around 1960 and moved from Springfield, Illinois to Murfreesboro, Tennessee. Our Storm King was made in Springfield while the whiskey slim was a product of Murfreesboro.
The older insert has a big metal flint screw and is way better than the flimsy, color bleeding plastic screws found in later models. A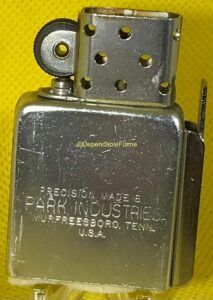 clear downgrade by the company at some point in time, I'm not sure one can not simply equate the two manufacturing locations with the difference in quality.
While aluminum inserts seem to be the norm amongst lighters made in Murfreesboro, I wouldn't swear I haven't seen seemingly original, aluminum inserts in Springfield manufactured cases.
Hinge Spring Mechanism
Both lighters employ the pivot point spring system, the same as every other Park Industries flip-top petrol lighter that I have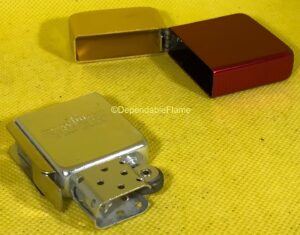 owned. I have voice concern about the long term durability of this system in a YouTube video or two in the past. It is a sort of brute-force tension system and I have wondered out loud if this could be responsible for some of the offset/overbite/underbite poor hinged conditions you see in some Ebay listing photos.
I have used this Storm King enough now to have assuaged most of these concerns. I have used this lighter, thrown it in my pocket, shown no regard for its condition, etc. and everything still lines up just fine.
I would note, I don't torque around on the hinge or anything like that. I'm not a trick guy, I just hope my hands function well enough to light the lighter! I think an abused hinge is much more likely to become misshapen than one that is shown respect.
Case Material
Practically everyone used aluminum during and after World War II and Park Industries was no different. This Storm King case is a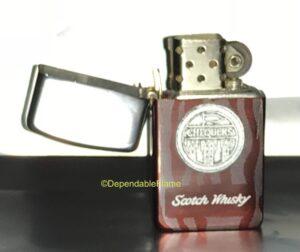 very lightweight aluminum(which paired with the steel insert likely speaks to the lack of brass available) and shows that while later lighters were mostly constructed of aluminum, the company had worked with the material for quite some time.
I have encountered many heavy gauge chrome plated brass Park Industries cases made in both Springfield and Murfreesboro. A brass cased Park lighter housing a steel insert is substantial in your hand. A lighter constructed completely of aluminum, not so much!
As we noted in the insert discussion earlier though, aluminum seems to have become the norm for cases in the later yrs as well. Not to the same extent as they continued to offer and sell the brass cases to order. I don't recall ever seeing a steel Park insert marked Murfreesboro.
Embellishments
Park lighters have been adorned with just about every kind of advertisement, promotion and artwork as Zippo and other popular flip-top petrol lighters like Champ and Penguin.

Printed images are probably the most common type of adornment highlighted on a Park lighter. I think it is a form of screen printing integrated into the anodizing or coloring process to finish the aluminum material. I can't recall seeing a Park with a printed image on a chrome plated brass lighter.
A painting application similar to Zippo's etch and paint process seems to be the typical treatment given to the company's brass cased lighters. There are some terrific sports themes and advertising models featuring this artwork that rival similar, iconic Zippo designs.
Manufacturer applied emblems were featured very prominently amongst Park Industries offerings, though to broach the subject in the Facebook lighter groups today you would think that every emblem on any lighter was pasted there by a bad actor. I am kind of over the pastie discussions and sort of bored with the subject matter.
It is easy enough to do a little research like I did when I made the YouTube video about pasties vs legitimate emblems. It is good to be wary. It is also good to do your homework where you will find practically all the old lighter companies offered an inventory of certain emblems and allowed attachment of other supplied examples.
Are They All The Same?
No, they are definitely not all the same but that doesn't necessarily mean that one is superior. I love the way the old PARK SHERMAN inserts are marked along the front spine. Just adds a level of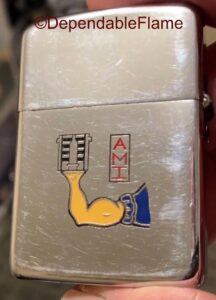 authentic aesthetic appeal to a company that didn't always mark their lighters so well.
I will say that Park lighters take a backseat to no one, including those made by the Zippo Manufacturing Company. The company didn't put out anything to equal Zippo's Town And Country paint process but that is really the only void and even that could be argued. There are sterling silver, lift-arm, table models and even a couple different pocket models going way back. All in all, I'd say Park matches everything Zippo has to offer with a few, differing mechanisms to make things interesting.
I would love to hear your opinion about Park lighters and their various iterations across the yrs. Please leave a comment at the bottom of this page. The comments are the first thing I check every morning, so if you are trying to get ahold of me, the comments section is the best place.
Sharing The Wealth
If you need to post a photo or image to illustrate your comment or question, please check out the DependableFlame.com Facebook page. You can post on the page, in the group or private message, whichever is more appropriate to your correspondence.
Check out our Ebay listings as well. You can follow any link to a specific listing from the Current Ebay Listings Page or go directly to our Ebay Store. Remember, I am an Ebay and Amazon associate which means any time you click on one of those affiliate links on
this site and make a qualifying purchase, I earn a commission.
And PLEASE spread the word far and wide, we publish new lighter video to our YouTube channel every weekday morning @8am central. The goal is to widen exposure of the cigarette lighter hobby in general while sharing information and promulgating communication between collectors, repairmen, dealers or whatever we each choose to call ourselves. The community is growing, old lighters are being put back to use and a general sense of camaraderie is being shared. Please join us.
Until next time…