An elementary understanding of selection, function and maintenance of the Beattie Jet Lighter.
What Makes the Beattie Jet Different from Other Lighters?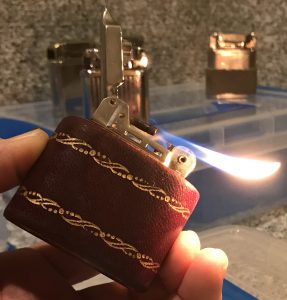 If you use disposable lighters, first you should be ashamed of yourself(I explain why here.) Second, the butane/valve design of your typical disposable will generally push the flame sufficient to allow it to be sucked down the pipe. But if you use a petrol lighter to light your cigarettes then chances are you have a separate(probably butane) lighter handy to light your pipes.
Is a pipe lighter really necessary? No, but the lack of a pipe lighter is at best a pain in the ass(who wants to stand on their head just to light a pipe) and at worst could leave you out in the cold. It's like most medical marijuana patients I know who are primarily smokers, still carry a vape pen for convenience. Beattie Jet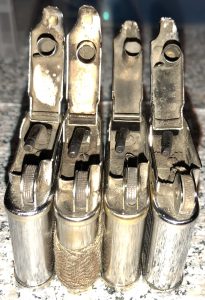 Lighter instructions are readily available on the worldwide web but can be a little difficult to understand if you don't have the lighter in your hand to put those instructions to practice. I will try to illustrate thoroughly with appropriate photos and videos.
The novelty of the Beattie Jet is that held upright it functions just
like every other petrol lighter you've ever used to light a cigarette. But tilted slightly with maybe the hint of a roll of the wrist and that same flame will reach out like E.T.'s finger, setting your bowl ablaze.
Basic Set-up and Maintenance
As you can see from the literature pictured to the right, the Beattie Jet
Lighter is similar in design to other petrol lighters, just with one strange and unfamiliar looking part added on. The jet tube is the key to what sets this lighter apart.
In order to create the pressure that enables the Beattie to extend its blowtorch like flame, a wick must be stuffed inside the lower end of the brass jet tube. This is key to remember when it comes time to replace the wick in your lighter. Before you stuff the wadding back into the lighter, make certain that the lower end of the jet tube is snugly plugged with a wick(it's okay to use the bottom end of of the regular wick installed in the lighter, if it's long enough) inside the body of the lighter.
Also, use caution when cleaning the brass jet tip. These lighters came new with a probe designed specifically to unclog the hole in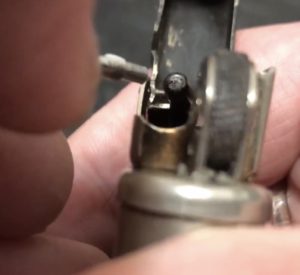 the brass tip. Many of these lighters listed on EBay will not come with a jet probe.
From my own experience, I wouldn't be too quick to try to clean that jet hole out by sticking a metal object into it. I currently own five of these and the two that work best, you can't even see the hole with a naked eye. Bottom line, if you are certain it is clogged and you don't have an original probe, you'll have to make do with whatever you can get. A welder tip cleaning tool is probably your best option but I would be extremely careful and don't stick it in there any more than you have to. Of my 5, the only one that has a ruined jet tip is the one I stuck a welding tip cleaner into. To be fair, the lighter never functioned correctly even before I tried to clean the tip. So, just my advice, gentle with the jet tips.
Where Do I Get One and Are They Expensive?
There are Beattie Jet Lighters commonly available on EBay and other online auction sites. It is not uncommon to find them at flea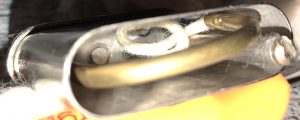 markets, pawn shops, thrift stores, garage sales, etc.
Currently, prices on EBay for a decent, complete Beattie Jet Lighter that looks like it has a prayer to function as intended start in the $30-40 range.
Complete with box, paperwork, bag and probe, I would expect to pay a minimum of $80 but considerably more the nicer the example.
Key Elements in Determining Value.
As you browse online auctions or search through bins at your local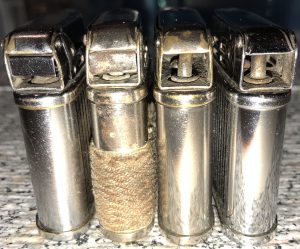 flea market, remember the following tips which are specific to buying a vintage Beattie Jet Lighter:
Snuffer/Lid retention spring: When browsing internet listings, it is easy to overlook this subtle part but it plays an integral part in the lighter functioning properly. If the lid just flops around, you could have a flame being extinguished when you need it lit. Worse, you could encounter difficulty extinguishing a flame you need put out if the lid does not snap closed as it was designed to do. Two small arms extend the spring toward the rear, underside of the lid. A broken lid spring is a relatively common problem with these old lighters.
Brass Jet Tip: If the hole in the jet tip is enlarged, the jet portion of

Damaged Jet Tip

the lighter will not function properly and it could get a little hairy trying to use the regular stand-up flame as the naphtha fumes waft listlessly from the heated, damaged jet tube.

Applied Patent Numbers: The earliest Beattie Jet Lighters produced were stamped with one patent number, with subsequent productions stamped with a combination(Beattie Patent Info) of numbers.
A good general rule with any online listing is to see photos taken from all angles. I would not purchase a Beattie Jet Lighter without seeing a photo of the back spine.
What Is Your Favorite Lighter Worth to You?
In the end, the monetary value assigned to anything is limited to the amount an actual buyer is willing to pay for that item. Embedded deep within both my business philosophy and general outlook on life is the belief that while this life may be fleeting, the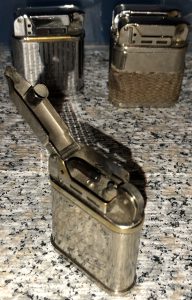 way we choose to live it matters. The things we do and say and build and dream can endure.
The Beattie Jet Lighter is an underappreciated relic that is relatively scarce compared to its vintage lighter peers. Just for perspective, a raw EBay search for "Beattie Lighter" returned 29 results across all categories. The last Beattie Jet Lighter was produced in 1961, so I limited the "Zippo Lighter" search to the lighter category in pre-owned condition and that returned over 10,000 results. There's a shit ton of Zippo lighters out there. There's only a handful of Beattie Jet Lighters.
Please leave comments below, email, text or call any time.
Joseph
(405)693-5678