The Dunhill Rollalite petrol lighter has some advantages over your typical vintage cigarette lighter.
Historical Background
The iconic Dunhill name has a reputation for quality, well-made cigarette lighters and other smoking implements. The company's origin can be traced to Alfred Dunhill opening his first tobacco shop in London in 1907. Over time, Dunhill was responsible for some of the finest petrol, as well as butane lighters in vogue with discerning smokers the world over.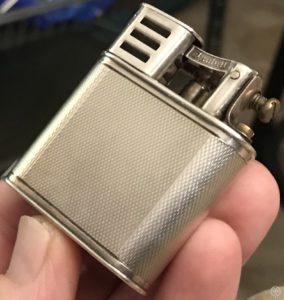 Early Dunhill lighters were produced in a variety of finishes, including enameled and precious metals. There were watch and aquarium motif lighters and both of these models bring a premium when offered for sale on public auction sites such as Ebay.
Popular Dunhill models include Unique, Savory, Tallboy & Rollagas, among others. Vintage Dunhill lighters constructed of precious metals will obviously tend to fetch higher prices but there are other considerations that can increase the value of an otherwise ordinary lighter.
The Rollalite petrol lighter is not alone among Dunhill's catalog in regard to quality workmanship and reliable function but it does stand out in my mind for its classic appeal and overall ease of use.
Aesthetically Pleasing
Most Dunhill Rollalite's were manufactured from brass and then plated with chrome, silver or gold. Various engine turned designs were available as well as plain models that featured engraved initials.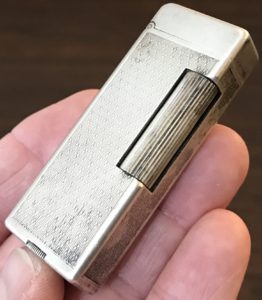 There was the Standard Rollalite that stood a shade over two and a half inches and the Small Rollalite that was just a little more than 2 inches. On a personal note, I'm not a huge fan of the Small Rollalite. I have short, somewhat fat fingers and it just feels clumsy in my hand. The Standard Rollalite, by way of comparison, feels perfectly weighted and seems to be an extension of the operating hand.
There were Rollalites with watches and also table models with a base.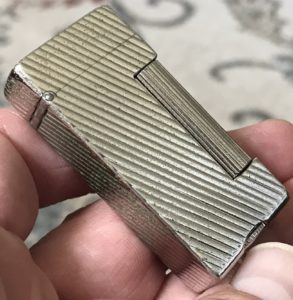 Solid gold and sterling silver models were made and are highly sought after by today's collectors. I can't recall ever having seen a Rollalite petrol lighter with an enameled finish.
Fuel Efficiency
One thing that turns off many modern smokers in regard to using petrol lighters is they need to be refilled relatively often. To some degree, you're just going to have to live with wasted fuel when using a vintage cigarette lighter but some are definitely worse than others.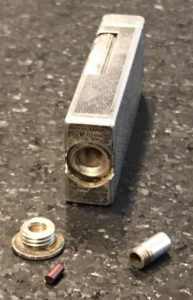 This can occur with more "open" fuel storage systems(mainly the insert or Zippo type) but it's not really an issue with the Dunhill Rollalite, with its closed tank system. When you refuel a Dunhill Rollalite, you can be assured, that fuel is not going to evaporate from the lighter in a few short days, as some others seem to do.
I have written here about the waste of disposable lighters and it's not just the plastic. How many times have you actually drained a disposable lighter of all its fluid? Personally, I usually lose them before progressing that far. Maybe you are more responsible than I but my point is there is waste either way you go. So, why not opt for the option that is less damaging to the environment?
Concerning the need to constantly refill, once you've invested in a can of fuel and refilled a few lighters, it's simple enough to come up with a rotation of lighters so you've always got one full. Pretty soon you'll find yourself with a new hobby and will have forgotten all about the chore of refilling lighters.
Quality Workmanship
To replace the flint in a Rollalite, one need to only depress the spring release lever with the end of a fingernail and work it backward. This will allow the flint carriage to swing to the outside of the lighter and permit insertion of a fresh flint. This system is much more efficient than those using long springs administered from the bottom of the lighter. In the case that old flint has degraded or expanded, these flint carriages are generally easier to clear and much more accessible than your average bottom flint tube.

When rewicking a Rollalite, I use an old Ronson packaged wick or the IMCO wire lead type wicks. Either seems to work fine, though I have developed a method of insertion that I believe simplifies the process and generally leads to fewer headaches.
The Rollalite also features a barreled hinge which provides more than enough strength to keep even the grimiest and most abused of specimens relatively straight. The spring influenced hinge snaps open or closed with purpose. Fill screws usually contain a hidden compartment on the inside that's made to hold a spare flint.
As I've said before, there's nothing cool about plastic. Carrying a plastic lighter will not set you apart from your contemporaries. A Dunhill lighter, on the other hand, and a Rollalite to be precise says something to those around you. Sort of like wearing a Rolex or a pair of Dan Post boots.
Every Smoker Has A Favorite Lighter
I would like to invite you to join in on the discussion. Maybe there's a story you'd like to share about a lighter you own or remember from years gone by? Perhaps you have a question about lighter repair or basic petrol lighter function? Whatever your contribution, the comments section below is the place to start.

If you like what you read here, I would also like to invite you to register for our email list. Moving forward, I have several ideas for the email list, including first crack at my newest lighters before they're even listed, vintage lighter repair tutorials complete with video and step by step instructions and much more.
DependableFlame.com was created out of a desire to highlight, promote and shed further light on the hobby and business of collecting, repairing, restoring and selling vintage cigarette lighters, along with ashtrays, tobacciana and other useful mechanisms. Articles cover lighter repair, selling on Ebay and sometimes, some things you might want to use a lighter to do.
We are passionate about Huntington's Disease Awareness and, as such, a portion of every listing Benefits HDSA-HUNTINGTON'S DISEASE SOCIETY OF AMERICA.