This is the first installment of a planned weekly feature recapping the work I've done over the past week. I have spoken many times on the YouTube channel of how making videos about old cigarette lighters and discussing them with viewers in the comments feels like camaraderie in my workshop. I envision this weekly article to be an extension of that same kinship and hope you will meet me here regularly to catch up on everything that's going on behind the scenes at DependableFlame!
Pulling The Sticker On The Lossproof
After a couple weeks debating how to handle the 2007 Lossproof Zippo that was still sealed by the orange warning sticker, I finally decided to make a video documenting the removal of the sticker and the condition of the flint tube. The sticker peeled off and the residual adhesive cleaned easy enough. The flint was immaculate and the tube looked no worse than a brand new Zippo.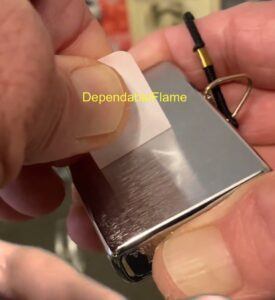 I really expected the flint to be a problem after sitting idle in
that lighter for so long but it must have been stored in pretty favorable conditions and I assume was probably never exposed to any moisture or substantial humidity. My curiosity sated for the time being, I'll not make a habit of removing the sticker from Zippos I plan to sale but I certainly don't regret cracking this one open.
It was a worthwhile endeavor for the channel and the lighter was sold by Saturday morning, nonetheless.
Hunting For Lighters In A familiar Spot
Rolling back through the same vintage mall week after week can sometimes be boring and tedious. If you widen your search area though and don't frequent those spots quite as often, it just may freshen up that stale old spot that you're getting tired of.
I can walk out my front door any morning, get in my Jeep and drive any direction and I'll run into a vintage mall, flea market, antique store or the like without even leaving Oklahoma City. I live in the heart of the city and they are everywhere! But the goods housed inside of them may not change all that often and that's where it gets kind of boring.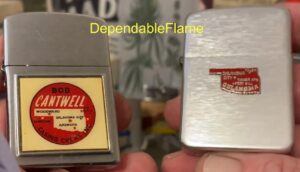 In recent weeks though, we had cast our net wider: East to Shawnee and Tecumseh, south to Norman, West down Rt. 66.
So, when I walked back in a familiar spot on Tuesday and looked in that case and saw the same lighters setting there, they seemed a little brighter and the price sounded a tad lower and suddenly I had bought them!
I have heard it can also pay off big by frequenting the same place over and over, fruitless search after disappointing day, if you're there at the right time. I have just never had that scenario pay off for me. I keep trying though and keep my eye firmly on the real honey hole which is Ebay!
Lights, Camera, Action!
The lights that illuminate our videos started flashing one day last week. Well actually, one of the lights went out a few weeks ago, leaving only one left to flash. These are halogen bulbs which run very hot and are very bulky.
Then Monday the second halogen light went out and I decided to replace them with LEDs I already had. They seemed very bright and I thought it would work but the results were lackluster, very shadowy and pale looking. You can confirm all this by going back and watching this past Wednesday's video. The light and video quality were horrible!
I had halogens back in there by Wednesday afternoon though, so I think Thursday's video was up to current standards. I do appreciate viewers feedback on the videos, both on the subject matter and the quality of video production itself. There are elements of the video quality(both positive and negative) that are evident to me when I watch them but another set of eyes, ears or experience from years of collecting can never hurt, huh?
What To Do About The Old Wicks?
I am currently wrestling with a real dilemma. I have no doubt that many of the wicks found in old lighters are no longer structurally sound or capable of reproducing a usable flame. It seems suitable to replace wholly unusable wicks such as these.
We have a YouTube friend who goes by the username: miiigoreng. He has published several videos recently on the subject of old Zippo wicks, especially the ones that contain asbestos. I know asbestos has tremendous anti-burning properties. It is also linked to serious disease.
I am certain that precautions should be taken anytime an old wick is cut. One should avoid breathing the tiny particles caused by cutting the material. Wearing a mask is probably a good idea as well as damp clothes to wipe up and dispose residual fibers that contaminate the work area.
At the current moment, I am leaning toward replacing rather than cutting any wick I believe may contain asbestos. If an asbestos wick is usable though and produces a good flame, it's probably best to leave it be!
Making Decisions
There has been much more thought go into video production lately than just halogen vs. LED lights. I published my first video to YouTube on July 5, 2018. I didn't have any lights at the time. Didn't even have a set. I began publishing videos to show the condition of lighters I was selling.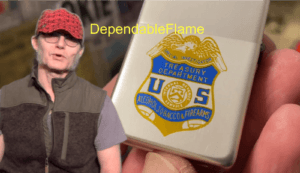 I still publish condition report videos for lighters but have also branched out into repair, review and discussion videos for various lighters, products and issues within the lighter collecting hobby.
While those first videos were rather crudely produced, an evolution has been undertaken beginning with the Thorens Double Claw that started it all and continues to transpire through the Oklahoma emblem Park Industries lighter that will publish in the morning.
My aim is to help as many as I can repair their own lighters through the instructional videos that I publish to YouTube. I would also like to draw folks to this extraordinary hobby by highlighting the multitude of interesting and ingenious mechanisms that power these personal flame machines as well as showing off their artistic nature and the embellishments that adorn them.
Please leave any feedback or comments at the bottom of this page.
If you haven't already, check out our YouTube channel, subscribe and tell all your friends!
Also, please subscribe to the DependableFlame Facebook page. Feel free to make a post sharing any lighters you have to trade or post lighters that you are looking to trade your lighters for. The Facebook page is also an excellent place to ask any questions your have regarding vintage cigarette lighter repair.
Lord willing, I plan to be here until he calls me home.
Until next time…