Volume 2 finds us talking about collecting versus selling and new experiences like some changes in the way our YouTube videos are edited and presented and preparing some Zippos for the repair clinic.
Is There Room For Another Cygnus?
I got a really cool Cygnus with a dragon motif in the mail over the weekend. I spent most of the first half of the Super Bowl on Sunday cleaning the lighter up and clearing out the flint tube of degraded flint with a hex drill bit spun by hand. I always prefer if I don't have to pull out the power drill but of course, I don't mind doing it if I have to.
I was a little bummed by the spot of corrosion or tarnish towards the bottom of the applied metal panel. I would have felt way worse about it if it was a lighter I planned to sell though so, my disappointment was tempered. I've been thinking all week about whether or not the copper panel was originally painted. I'm leaning toward no simply because there is not a spot of paint left and the lighter is in really good condition for that much of the paint to have worn off through use.
It's amazing how many Cygnus's still have their fuel gaskets intact. I am on record that I don't believe the gaskets are all that important to the function of most petrol lighters but I still like to acquire them as close to original condition as possible. Those rubber gaskets are definitely a plus as a Cygnus collector.
I Like It But No Thank You
Tuesday meant a trip to another vintage mall and though the search was unfruitful it was still enlightening. We returned to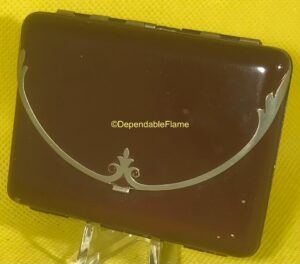 another place in west Oklahoma City we've been to a couple other times. Fans of the YouTube channel may remember a faux reptile leather Storm King lighter from several months ago. I purchased that Storm King out of a tray under the glass of the front display in this same establishment.
If money were no object or I wasn't trying to make a profit, I would have purchased half of the lighters in that tray by now. But they have them all priced just a little too high and that's okay because that tells me the seller values the goods he is offering. I like to find a deal as much as anybody but it kind of annoys me to see the prices that some antique mall sellers place on the items they are selling.
Recognize quality and price it accordingly. It may not sell today, it may not sell this week but it will sell. Weigh your options carefully though when dealing with an interested buyer. For some items, offers are few and far between so it's important to be flexible enough to know when it's time to accept an offer lower than you are asking.
Which reminds me, the faux reptile lighter is still listed in our Ebay store and would be a handsome and welcomed addition to any vintage lighter collection. Park Industries manufactured Storm King lighters and Ebay sold listings will show you Park are some of the most under-valued lighters in the hobby. A person can put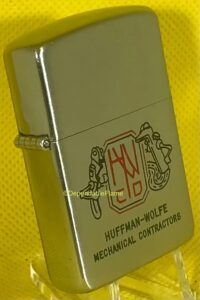 together a very impressive display of vintage Park lighters that rival similar Zippo displays for a fraction of the price.
Comparing Zippo to another lighter reminds me of a comment left under a video this week by our friend Giovanni Abazia. Giovanni is a big Zippo fan and I know he doesn't take these things lightly but he said after watching all the Penguin Cygnus lighters in my videos he believes they actually function better than Zippo. That is a conclusion that I can't disagree with as my experience tells me when you spin the roller on a Cygnus, it's going to light.
Finding My Comfort Zone
I feel like I am finally settling into a new routine for publishing video to YouTube every weekday morning. I say new because much has changed in the way the videos are recorded and produced which has resulted in a boatload of time disappearing whilst I am supposed to be editing(or otherwise getting lost and confused in the process). I don't want to bore you with all the minutia but a few details might be informative.
I used to sit down with a lighter in front of the camera on my set and record the entire video in one shot. There were times when I literally didn't make an edit other than the beginning and stopping points of the video. Now there are at least two recordings undertaken for every video and there have been times when everything required in editing the videos seemed overwhelming.
I believe I have found a balance though, over the last week or so and am now enjoying the process a bit more once again. There will be some videos where my face appears on screen more than in others. Sometimes this may be by design, depending on the subject matter of the video. Other times, it may be out of necessity due to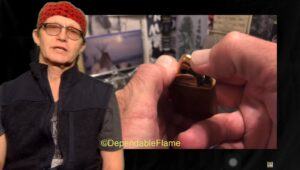 an editing concern. Either way, know that I am steeped in the process and continually working to improve the quality and value of the videos.
I would also appreciate hearing any feedback for requests, improvements or concerns that you may have. Maybe you are an A/V professional and see or hear some small tweak I can make that would make a big difference either in the recording or editing of the videos. Please let me hear from you.
Paring Down My Collection
My fascination with Japanese made petrol lighters got a little more interesting this week in the form of chasing down more info about a lighter I had initially thought was made in America but now feel it's anyone's guess. You might remember the Huffman-Wolfe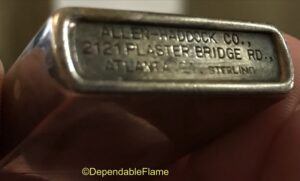 Allen-Haddock lighter from a few months ago and the original solid silver model I had some yrs back.
Knowing the Huffman lighter was made in Japan leads me to think they probably farmed out the sterling lighter as well. I think there is a good chance it was another American firm that made it for them but nonetheless.
I enjoy researching and writing these articles but I'm not a professional fact finder or anything like that so if you read any of my articles and notice a hole in my research or an error that needs correcting, leave a comment below the article. We can discuss and I'll make any corrections that need to be made.
I only got around to working with and writing the article for the Allen Lighter this week because I have come to the conclusion that I've accumulated too many lighters and needed to cull the herd a little. Not for the sake of quality but rather my own sanity. I really enjoy collecting lighters but my purpose here is to sell them and to document them along the way. Acting as though I didn't need to sell this one proves that I did, for I didn't document it properly until selling it forced my hand.
A First Time For Everything
The majority of my day Friday was spent writing but late in the afternoon I got around to finally doing something I probably should have done a long time ago. I can't tell you how many "sub par" Zippos have passed through my hands over the last four and a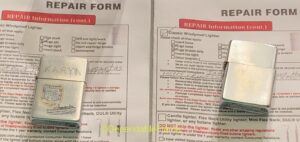 half yrs but I really don't like selling repaired Zippos(I've acquired several through my purchase hoards and have enjoyed using them), so I never really thought to send them back.
My friend Gavin Lannan gave me a Zippo repaired lighter a while back. It's an excellent lighter that I use often. This along with the growing nature of late of my own collection(ya, I know I just talked about thinning out my collection) and here I am availing myself of Zippo's lifetime guarantee on a couple pocket lighters.
One of them is no big deal, just a 1960s beater but the other lighter is one I am very excited about. It is engraved with a name on the front and the U.S. Navy ship USS Camden and "Happy Birthday" on the back.
I really hope they can get the military lossproof lighter back to like new condition. That will be a cool lighter to carry around and use, at least for a while. I am also curious to see just how far they go in repairing the lossproof hinge. From just tightening it up to replacing the elastic lanyard itself, I have no idea what to expect but would be happy just to see that lid not flipping around all willy-nilly.
If you have stories or experiences you can share about sending Zippos back for repair, please leave those at the bottom of this page.
You can also get my attention any time by posting on the DependableFlame.com Facebook page or in the direct message function. Either action will allow you to post as many photos as you like illustrating the problem you're having or the question you would like answered.
We publish new video to YouTube each weekday morning @8am central!
Until next time…