Making a YouTube video for one of the last items I still own from the best collection I have purchased to date not only made me dig a little deeper into the name highlighted on several of the lighters but also caused me to consider the prominence some military lighters enjoy over others and whether that position is justified.
Admiral Joseph James "Jocko" Clark
In the summer of 2018, I purchased a lighter collection in an online estate sale that included twenty-eight total items: 18 lighters, 9 cigar or cigarillo cutters and a piercer. Several of the items were sterling silver or gold filled. There were even an antique solid gold piercer and cutter. I've talked about it in some YouTube videos but have never gone into great detail.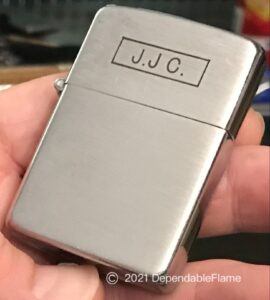 There were several lighters in the collection(interesting to me, this was the first time I bought a lot of old lighters and didn't have to clean out all the flint tubes) engraved with the name J.J Clark, or differing variations thereof. A quick search of Wikipedia and viewing a few YouTube videos and I figured out that Admiral Joseph James "Jocko" Clark was a significant American Naval figure who had a long and successful career.
Beginning his Navy service in the second decade of the twentieth century, Admiral Clark commanded Aircraft Carriers in World War II, lead the 7th Fleet after the Korean War and retired in 1953. That's somewhere in the neighborhood of 36 yrs of military service. Pretty impressive in my book and he had a good reputation as an aggressive commander.
I had a lot in common with him despite the fact I never served in the military. He was a Cherokee Native and an Okie, to boot. Who could have possibly imagined that, huh?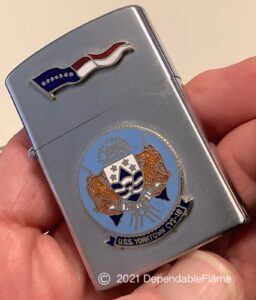 I read a lot in vintage lighter Facebook groups about Vietnam Zippos and authenticating them and their values and things like that. It all seems very dubious and I don't want any part of it. But as some lighters in that collection show, there are many other varieties of military lighters a person can collect.
And those are the details I want to focus on today: the different kinds of "authentic" military lighters and the prominence each deserves alongside the others.
Military Presentation Lighters
Best I can tell, military presentation lighters were usually made to commemorate a ship or grouping of airmen, seamen or soldiers like a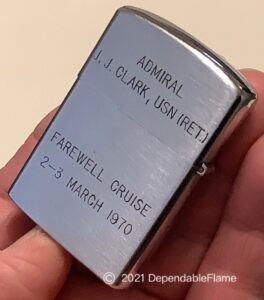 squadron, battalion or other nomenclature. Sometimes they are engraved to a specific individual, sometimes they are engraved from and to individuals and at other times engravings involve only the military grouping. Sometimes dates or important events are noted.
There were a couple military presentation lighters in that collection. The Vintage KONWAL SUPER Military Presentation Lighter with an enameled emblem of the U.S.S. YORKTOWN engraved to Admiral J.J. CLARK on its farewell cruise. It was the video for it that inspired this article.
There was another KONWAL COMMANDER FIRST FLEET presentation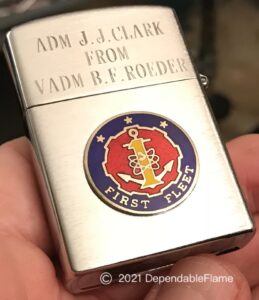 lighter engraved to Adm. Clark "FROM VADM B.F. ROEDER" with an enameled 7th Fleet emblem and an enameled pennant flag emblem on the other side.
One thing I'll say, of all the time I've spent browsing Ebay or other auction listings, posts in Facebook groups or any other place I've run across cheap military presentation lighters, I've never seen anyone question the authenticity of the engraving on them. And when I say "cheap" I do not mean that pejoratively, I only mean that most collectors look at those other flip-top, usually Asian made lighters as cheap Zippo knock-offs. Many times the quality was actually excellent.
Authentic Vietnam War Zippos
There was a 1960s Air America Zippo engraved "Fly The Friendly Skies of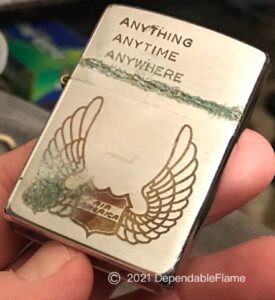 Southeast Asia" on the back and "Anything, Anytime, Anywhere" on the front of the lighter but the fourth line of the original engraving was scratched out and oxidized. I read the airline was used by the CIA to get people and other things across the border during the war.
There is a whole Facebook group dedicated to highlighting or authenticating wartime or field used and engraved Zippos. It seems part of the tourist trade after the war was to engrave authentic Zippos as if they were carried, used and engraved by an actual soldier. There is an expert or two and people post photos. Opinions are given and judgements are passed, it could all be very demoralizing if you believe you have that authentic Vietnam War Zippo.
I never heard of anybody counterfeiting a KONWAL military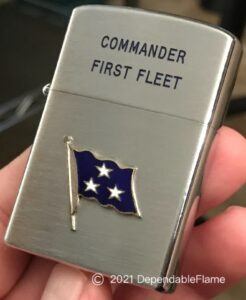 presentation lighter though. Just saying. I am aware the Zippo name means much(maybe all) to many but it would be a shame if love for that brand tainted what could be an appreciation of another. IDEALINE and PENGUIN are just a couple other brands that come to mind which made lighters of very good quality and to the naked eye of many would be indistinguishable from a Zippo until the base stamp is revealed.
Other Military Lighters
There was a Black Crackle Zippo that while it didn't have a box,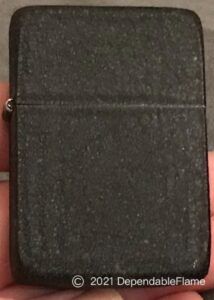 other than a few paint chips I couldn't have hoped for it to be in better shape as they all seem to have oxidized inserts to one degree or another. That was a really cool lighter.
There was also a Zippo for the U.S.S. MISSOURI that had a WWII surrender coin on it which felt like holding a history book. It was then currently in great condition but had obviously been sent to Zippo for repair, seeing it still had the color coded stickers on it as well as the weld tacks and some removable writing on the underneath side of the lid.
These are both examples of wartime or war related lighters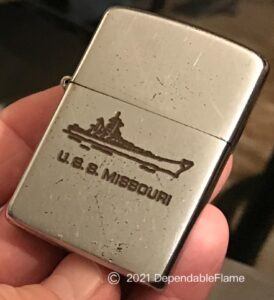 that a person could reasonably base a collection on. There's a good number of WWII Black Crackles out there. I've owned three of them myself and didn't pay a premium for any of them. They are available.
I suspect he U.S.S. MISSOURI lighter is much more rare than the Black Crackle but they still show up on Ebay in various conditions and a couple variations.
There's A Collection For Every Lighter
And while that Black Crackle Zippo was pretty cool, it's not like it had Ernie Pyle's name on it. My point is, besides very few, there's always someone with a better lighter or a better

collection. Presentation lighters can add depth and even help establish provenance with authenticating a wartime Zippo or other brand lighters that were used in war like the Dunhill Service Lighter or Berkeley Black Crackle.
Whatever we collect for whatever reasons we collect it, we give the prominence it holds. A military presentation lighter may never sell for the high dollar amounts we see Black Crackle Zippos go for regularly. That doesn't mean it should be appreciated any less.
Please check out and subscribe to the DependableFlame YouTube channel if you haven't already. There's a lot of exciting stuff going on over there including a new video every weekday morning.
Also follow DependableFlame.com and post photos for your lighter questions on our Facebook page!
Until next time.✌️