With just a little attention, many of these old relics would be as useful as ever.
The Wheat from the Chaff
I recently purchased several large lots of old cigarette lighters. There are always certain attributes of a lot that pique my interest. If the lighters were purchased online then ordinarily I don't really know much about them until I get them in my hands but once I do, there are a myriad of vintage lighter repair projects that could be necessary.
For instance, I may purchase a lot containing 40 lighters that I have to judge off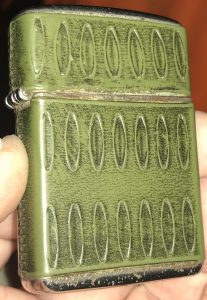 one photo. Still, there are things that catch your eye:
Leather wrapped
Nice, shiny looking Zippo in an old box
Sterling or gold markings
3 barrel hinge
Champ Austria Leather Wrapped
So, I had seen this lighter in the photo and thought it looked pretty cool but it wasn't until I received the package in the mail that I knew exactly what I was dealing with.
From that photo, same view as the one above, my guess would have been a flip top wick lighter but it could just as easily have been butane.
My heart sank though when I picked it up and the lid just fell freely open. Flip top lighters generally employ some form of tension to enable them to flip open and hold shut.
Some times that is achieved with a spring or cam and other times a method is used which is more resistance than tension. Anyway, there are numerous variations and combinations but this Champ lighter had the more crude resistance type tension.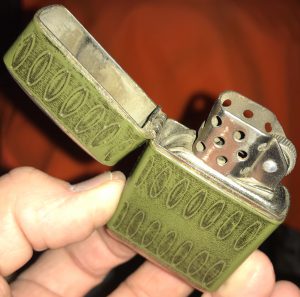 I was glad to see that because it is the simplest of these systems to fix.
But I didn't want to go and ruin the value of a lighter that a collector would pay a lot of money for. So, I did a quick EBay search and determined that there apparently isn't much premium put on these old Champ lighters($5-$20) which makes it a perfect lighter for me to fool around with and put in my pocket for a while.
The Resistance "Spring"
With this type system, there is usually a straight, sometimes heat treated piece of metal attached in some fashion to the back of the insert. Now that I think of it, that straight piece of metal is a form of a spring.
Problem with this lighter was that piece of metal was broken off. I needed some kind of metal that was rigid enough to provide the tension but pliable enough that it could be cut, filed and shaped without anything other than snips and a hand file.
I settled on using a relatively thick blade from an old feeler gauge. Used a small pair of pliers to curl the

sides of the blade and then the snips and file to round off the corners and the burrs caused by cutting. Then I just slowly, checking the spacing pretty often, worked it with some medium sandpaper until it fit just right.
I left the top squared off for now to make sure it was visible in the photo but when I cut it down I just have to make sure not to cut it too short. It's a lot easier to snip a little bit more off than it is to shape a whole other blade.
Other Features of the Champ Austria Lighter
On the surface, it looks like so many of the other "Windproof" lighters made in the past century. But despite having to fix the tension problem, I think this may be a lighter I hold onto for a while.
It has a really cool faux leather wrapped grip that seems to be more sturdy than similar others I've seen.
The chimney cage design is particularly clever. It swivels on the same rivet that holds the flint wheel.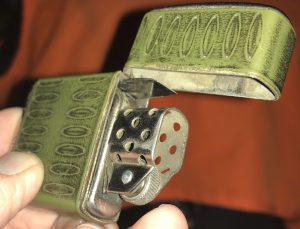 That allows access to the
wick that is impossible with most other systems. It also appears more than strong enough to use as a handle to gain leverage when removing the insert from the case.
The underside of the insert has a cool little lightweight metal cover panel that is held in place by the flint screw. It is recessed and there's a slot in the middle which makes refueling pretty easy if you're careful.
And thanks to the spring that I fashioned, it holds closed better than any lighter that I have ever owned.
Are You a Collector? Smoker? Camper? Preparing for a Zombie Apocalypse?
Whatever it is that causes you to need fire, doesn't really matter. I need it to light my medicine at any time of the day or night. Occasionally, I need it to light a lantern. Every now and then, I use it to light a water heater or furnace.
I intend to fill these posts with as much helpful and useful information as I can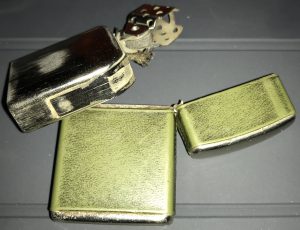 about old cigarette lighters. I will also be posting about some of the ways we employ fire and perhaps some alternatives or rediscovered uses, gadgets, etc.
If you collect vintage cigarette lighters, I would love to hear your comments. My main purpose is putting quality old lighters back into service. I have discussed that in another post. But there is a part of me that understands the desire to collect things, I just like to collect things that not only work but I am able to put to use.
I would love to hear from anyone who is interested in performing similar repairs or having similar repairs done for you. Maybe you have an heirloom lighter that you don't want to take the chance of losing in the mail. Comment below, email, text or call. I would love to help you. I spent 25 yrs working for the U.S. Postal Service.
Now, this is what I do. Buy, sell, sometimes fix, fool around with old cigarette lighters. I am up late every night(that's when the magic happens) so hit me up. I'll get back to you as quickly as I can.
And please remember that we are IN SEARCH OF old lighters of all kinds: new old stock, lots, need service, whatever. We accept consignments on arrangement.
Joseph
bossman@dependableflame.com
(405)693-5678