This past was not the typical week around the DependableFlame headquarters as an efficient and productive early week gave way to (Hopefully!)winter's last gasp but sharpens my perspective toward the goals at hand.
Is Evaporation Really A Problem?
It is probably the question I am asked most often via YouTube comments, email, social media, etc. "What do I do if my petrol lighter leaks?" There are variations or sometimes different questions altogether that are after the same solution: there is fluid dripping out of the bottom of the questioner's lighter and they need to know how to stop it!
I purchased this odd Cupid Japanese roller lighter in a group of several some time back. There are many factors that lead me to call it "odd" but for purposes of this article I want to focus on the lighter's fuel screw. You can see for yourself in the photo below there is a hole right in the middle of the fuel screw. It seems pretty obvious to me this screw would not prevent lighter fluid from dripping out the bottom.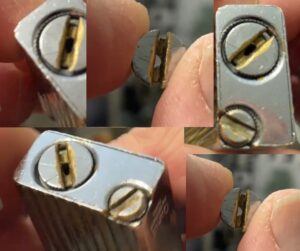 I also would have thought the hole right through the middle of the screw would allow so much evaporation it would force me to find a replacement otherwise the lighter would be useless. But that's just not the case and I see the lighter as an object lesson and one that most of us can learn from.
Just so we're clear: If your lighter is leaking fluid, it doesn't matter whether it's out the bottom or around the top of the wick, your lighter has too much fuel in it.
ZIP-A-FLINT BY Zippo
I had a lot of fun making the ZIP-A-FLINT video this week as I have had the large 12 count ferrocerium dispenser for several yrs, maybe going back to some of the very first groups of vintage lighters that I purchased. I appreciate that it is marked so well and really provides an authentic nostalgic feel to all the items used along with it. I really didn't anticipate that video getting as much reaction in the comments as it did but I am glad others seem to like some of the complimentary tools and accessories as much as I do.
I was also thrilled to see the ZIP-A-FLINT video elicit a viewer post on the DependableFlame.com Facebook Group Page. Thomas Dohrn's photo shows a couple sealed 12 Flint ZIP-A-FLINT retail cellophane cards still 100% intact. He didn't know what period they were from but did report they still moved freely in the plastic channel that holds them. The "Group" page is one of three options you have to interact with DependableFlame and our fans on Facebook.
A direct message can be sent at anytime and is an excellent option if you simply want to ask me about a lighter or other useful mechanism and do not want the prying eyes of the general public to see it. Trade inquiries can appropriately be made in the direct message function also as photos can be sent illustrating your proposal.
You can also post pictures and comments on the DependableFlame.com Facebook Page and Facebook Group. These are obviously public forums so would be great for show and tell posts or asking questions to the wider DependableFlame audience rather than just asking and waiting for yours truly to answer. This is also a great place to post lighters you have to trade to me or others in the group or page. Feel free if you see me talking about trading a certain lighter in a video to propose a trade via any of the Facebook channels of communication.
A Mild Oklahoma Winter
I have had no real complaints this winter season. The Oklahoma weather is famously unpredictable and 2021 brought us the most severe winter I could ever recall with no less than six ice or snow events and some of those lasting a week at a time. There was more than once that having several videos in cue to be published paid off because I spent so much time isolated from the space and equipment needed to get the work done.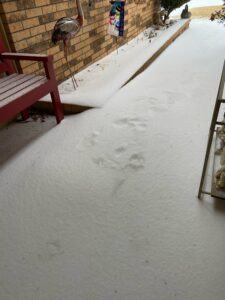 This year though has been different, much more mild. We have had plenty of cold weather but it's only been for a day or two at a time and framed by extended periods of unseasonably warm weather. This has been good for the progress of my work as we were void of any prolonged weather events with roads, weather or uncomfortability keeping me from the DependableFlame workshop and studios.
The older I get the more harsh even the mildest winter seems on my bones but again I had no real argument with it until Wednesday when I witnessed a weather event I've never seen in Oklahoma and for the first time this winter had my work stifled.
I have seen it sleet in Oklahoma often, probably more than it snows but I had never seen dry ground covered by sleet in minutes and stick with a magnet-like force and just stay. Usually, the wind is blowing enough to move it all around a little and keep things from building up so fast. I would love to see spring and will hold out hope it is upon us but reckon I haven't caught a shiver for the last time this season just yet!
I may not have the backlog of videos waiting to be published that I had a yr ago but I have things well under control so the weather was nothing more than a minor nuisance. It also gave me an opportunity to dig a little deeper into the archives of the OTLS newsletter which we may talk more about next week.
Did Zippo's Address Change?
Our friend Dylan Depuy left a comment late in the week below last week's YouTube video for sending Zippos back to the repair clinic. I say comment but it was actually a couple questions regarding the return form and address I had used.
I had never sent lighters back to Zippo before so I was simply following the instructions on Zippo's own website and the address provided on the downloaded form was 1932 Zippo Dr. I commented on the appropriateness of the address in the video but didn't think anything else about it until Dylan asked where I got the form and said he had always used the address: 33 Barbour St.
I don't talk a whole lot about my background with the U.S. Postal Service but I do have considerable experience with these sort of issues and I am not too worried about the address on either account because Bradford, Pennsylvania is not that big a place anyway.
1932 Zippo Dr could be an actual building number on a street in Bradford or it could be a container setting in the back of the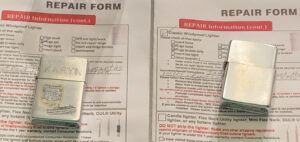 post office. Phantom or "virtual" addresses have been used for a long time by many different companies as a marketing ploy or way to make their address more memorable to the customer. Bradford also only has one zip code, virtually guaranteeing any package simply addressed "Zippo" will make it to the correct destination once it arrives at the post office serving the 16701 zip.
I do appreciate Dylan's questions, however and hope to convince you to join us there in the conversation!
Help Me Promote DependableFlame
If you enjoy the articles you read on DependableFlame.com, please bookmark the site and check back often as we currently publish a journal article every Sunday evening(this is the third installment!) and a feature lighter article on Wednesday mornings.
We publish video to YouTube each weekday morning @8am central and would appreciate your interaction, subscription and support as I work enthusiastically to extend the hobby of collecting lighters, ashtrays, tobacciana and other useful mechanisms in a way that I have always thought of as your daily dose of Lighter TV! For you Okie retro-TV junkies, I aim to be something like the "Don Wallace of cigarette lighters!"
Remember those three avenues we discussed earlier to get my attention on Facebook! I answer emails best I can but the quickest way to get ahold of me is direct message on Ebay or any of the three Facebook options.
Watching and actually listening to the daily videos can be very fruitful for getting questions answered as well because I try to work in as many answers as I can to questions I get from the emails, comments and various other sources. Try as I might, for some reason many of the YouTube comments fall through the cracks of the notification system. Emails are very easy to overlook and some get caught up in the spam filter but I do take them serious. It's just not the most boisterous, guaranteed method of communication if you want an answer.
You can always leave comments or questions below any article as well. Those comments will be published and generally answered but there a certain limitations like the inability to post pictures. That's what makes Facebook so awesome!
And please share these links with your friends. Some of them I earn commissions from(like the Amazon and Ebay affiliate links on the Helpful Lighter Related Links page and elsewhere) and others are merely informational.
All of these things really will make a difference!
Until next time…