An update on a years long quest to gain meaningful information about the first lighter manufacturer that ever stumped me. A guarantee paper yields some useful clues but will it help us come any closer to understanding who and exactly where the Allen-Haddock lighter was manufactured?
A Couple Cool Old Relics
In early December of 2017 I purchased a sterling silver petrol lighter marked on the base with the name of an obscure firm located in Atlanta, Georgia. I bought this lighter in an online estate sale auction and there was no real information included in the listing.
I didn't pay much for the lighter that was engraved "E.H.I." and as I've documented thoroughly, everything I purchased back then was bought to sell. I was not a collector. I admired many of the pieces I was running across and daydreamed of a time I could comfortably keep an item or two of the nicer lighters I had found but that luxury was still some time in the future.
New to finding info on items Google was ignorant of, I requested help by posting a picture of the lighter and a simple plea for info on a few Facebook
antique identification groups. I got a few comments but nothing really helpful. I was a little disappointed but undeterred and when I discovered the OTLS-On The Lighter Side Facebook group I was certain someone would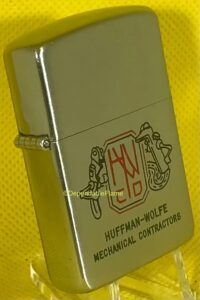 educate me concerning all the ins and outs, details and dirt on the Allen-Haddock Company and the cigarette lighters they had produced.
OTLS is the world's oldest cigarette lighter collector's club and it's membership roster is chock-full of experts, spouting details about long-defunct workshops and the designers that worked in them. Some of its members have written books and others have put together websites overflowing with so much information it boggles the mind. But none of them knew anything about the Allen-Haddock Co. or my lighter.
What Was The Allen-Haddock Company?
That post I made on the OTLS Facebook group page is still setting over there unanswered over four years later. My search for info though never stopped and at some point I saved "Allen Haddock" as a search in My Ebay so I would be notified any time a product from this company was listed for sale.
I was surprised when those email notifications started coming in(and they were not frequent) to see the products being sold were tin Coca-Cola advertising model pick-up trucks made in Japan. That seemed strange to me for a company that had produced a precious metal petrol lighter in Atlanta, Georgia America(I know I was making all kinds of assumptions here but you live and learn, right?)! This should have been my first clue but I'll explain that at the end of the article.
The Ebay listings I have seen as a result of that saved search have been my only source of additional information in the intervening period. I have seen at least one other sterling silver model listed but it did not sell and a handful of regular chrome plated ad models that were beat up or otherwise of no interest to me.
The internet doesn't seem to know this company ever existed, finding only
residual mentions of the brand in listings and no historical or cultural references found. In fact, when I executed a Google search for the words "Allen Haddock Company" while preparing for this article, the top three results were all published by me under the DependableFlame banner: the article I wrote about the sterling lighter and two YouTube videos. That looks to me like a dearth of information.
Like Looking In The Mirror?
When the listing for this Huffman-Wolfe Mechanical Contractors lighter showed up in my inbox, I was immediately interested as it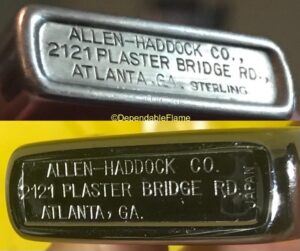 was brand new, beautiful and had the box and paper to boot! I had seen a few Allen-Haddock lighters since saving the search but I couldn't recall seeing any that included the box or guarantee paper.
The paper inside is simple and printed only on one side. It states the lighter is "guaranteed against mechanical defect" and twenty-five cents should be sent along with the lighter for return postage. It lists the same address marked on the bottom of both the sterling silver and Huffman-Wolfe lighters. There is also a second, P.O. Box mailing address listed. This was before standard addressing or the advent of the zip code but all my yrs with the postal service tell me it's likely that P.O. Box address was located in the same station in Atlanta that delivered the mail to 2121 Plaster Bridge Rd.
Comparing bottom stamps also brought another realization. The stamp on the Huffman lighter base is open where the solid silver lighter was marked STERLING. It's also marked JAPAN to the side, perpendicular to the main markings. So it seems to me this was an American company but not necessarily an American manufacturer.
Similar to Brown & Bigelow, I think Allen-Haddock put their name on products actually produced by other(maybe many) manufacturers and companies. It was not uncommon in the 1950s and '60s for American companies to market and sell Japanese made products as their own.
Whether Allen-Haddock actually made the sterling silver lighter, I have no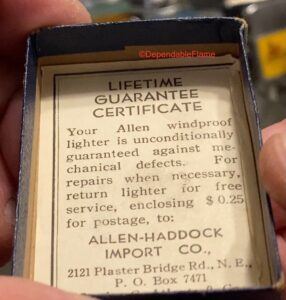 idea. My gut tells me no, that a company who would put their U.S. address on the bottom of their lighter along with a stamp indicating it was made in Japan probably were not engaged in the manipulation of precious metals. I do think it's likely that lighter was made in the U.S. being absent of any contrary markings, though. I just don't think Allen-Haddock actually made it but rather paid someone else to produce the lighter with their name on it.
Is One Advertising Lighter Better Than Another?
I am a Zippo fan but also a huge enthusiast for wick lighters of all kinds. The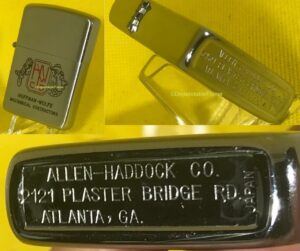 Allen lighter is what most folks refer to as a Zippo knock-off or fake. Knock-offs, fakes or Rippos are often compared to Zippo and some collectors even judge certain components of a particular Japanese made lighter to be superior leading to the question: Are some of these Japanese lighters better than a Zippo?
The fact Zippo is still around proves that one is actually better. I mean, none of the addresses printed on any of the guarantee papers of Zippo's vintage Japanese made contemporaries are still good today. All those businesses have gone out of.
This Huffman-Wolfe Allen lighter appears very well-made though. The insert is nice and snug and has a very pleasant brushed finish. The two color, etch and paint type graphic looks identical to those found on 1950s Zippos and is every bit as handsome and awe-inspiring when displayed.
There are some surface scratches and other minor wear but nothing that wouldn't befall a Zippo or any other lighter with a similar finish. The cam spring seems strong but is very stiff. I'm not sure if this is an improvement or a hindrance and my reluctance to damage the lighter prevents me from tinkering with it any further. The spring did loosen up a bit when lubricated with a drop of silicone spray.
All Inclusive
There's a collection for every lighter and it doesn't necessarily have anything to do with the brand stamped on the bottom of the case. I dare you to go and try to find a photo of a 1950s Zippo advertising Huffman-Wolfe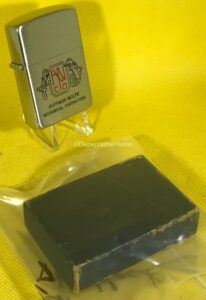 that is more attractive than this lighter. I also know that for some collectors it's all about a name and usually just that one: Zippo.
Zippo prices have gone crazy of late though and everyone knows it. Hardly a week passes in the Facebook lighter groups that somebody doesn't post an Ebay auction result that has half the group up in arms and pissed about prices. If I was priced out of the Zippo market, the first place I would look and there is still plenty of value left to be found in Japanese made advertisers. Their quality surprises most collectors and aesthetic appeal is not lacking either, especially when it comes to military presentation and other applied emblem type lighters.
The multitude of factories that were running during and after the Allied occupation of Japan tossed out into the world a seemingly endless array of fascinating items. It also seems that precious little real information about the manufacturers or factories that produced them exists. I'll do my best to acquire as many of these interesting lighters as I can and see if we can't discern a thing or two or at least have a good time and see some cool lighters while we're at it.
Remember to subscribe to the YouTube channel and hit the "bell" so you get that notification each morning(do you really need a reminder?) when the new video is published.
You can also ask any repair questions, propose trades or just post show and tell photos of your own lighters on the DependableFlame.com Facebook page.
Until next time…