A Benevolent Post-Industrial Manifesto
How Much Convenience Do We Require?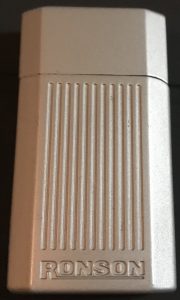 Have you ever paid attention to the Zippo lighters for sale at your local Wal-Mart, Winco or other retail chain? No? Well, if you have come to this post then you likely have some interest in lighters. Maybe you don't smoke but have family and friends who do.
Either way, you're going to want to keep reading and pass this information along to anyone who uses a lighter.
So, I was there in the store looking at the display of all the lighters available. It looked something like this:
On top were the disposable Bic type plastic lighters
You had your gimmicky, novelty type
There were a few different Zippo designs
Then of course, various and sundry fuels, flint and energy shots
I am going to dig a little deeper into the options available when you go to a brick and mortar store and buy a new lighter in a moment but first I want to make sure that you understand my overall philosophy in the proper context.
Be Socially Responsible: ALWAYS REUSE WHEN YOU CAN!
There are many particulars we can debate about the most environment friendly ways to make fire. I would think at this point though, we could all agree that the consequences of manufacturing, packaging and marketing alone would make purchasing a new product prohibitive when there are countless previously purchased products available that have already had their negative impact on the environment.
So, my advice is to purchase wisely regardless of the situation. You can apply these principles to any consumer product you are in the market for. And I believe we all need to start thinking this way more often.
I'm also not suggesting that we should bully anyone into doing things a better way. That would be counterproductive. In the same spirit, I'm not saying you should flog yourself the next time you purchase a disposable lighter. I'm simply saying we ALL need to take into account the condition of the world we live in and the conditions we will leave for those who come after us.
I Promise, I Won't Buy Plastic. What Does That Leave Me?
If you're already at the store and you are going to purchase a lighter that is not plastic then you are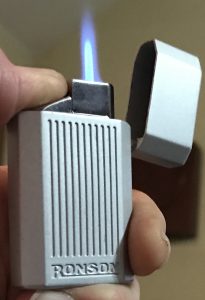 likely down to no more than 3 options:
a recognizable brand(Scripto, Gillette, etc.) butane torch lighter that probably has a multi-tool, flashlight or some other nonsense incorporated into it
a Ronson Jet Lite butane torch lighter
If You're Gonna Buy One Then Buy the Jet Lite!
We have already discussed many of the reasons not to purchase various lighters but now I want to focus on several of the reasons that I believe make the Ronson Jet Lite the lighter you should buy if you really do require convenience.
First and foremost, it is a solid piece of equipment that performs reliably. Ronson is owned by the American company Zippo but the Ronson Jet Lite is made in China. No matter because if you are shopping at Wal-Mart you don't have an issue purchasing Asian made products.
This time though that purchase is going to pay off big time and I'm going to tell you why: the Ronson Jet Lite is not only a reliable quality-made tool, it will do anything you need a lighter to do. Especially, a lighter that you bought purely for convenience.
The Jet Lite has controls that make it very easy to understand how to adjust the flame and also to refuel the lighter when needed. The lid is fitted so that it opens and closes with ease and stays in the position that you want it. All external parts appear to be metal and the lighter has a sturdy feel to it.
I have seen these lighters for sale at Wal-Mart in blister packs for under $5.00. That is the same price as a few disposables. But you won't be throwing this one away because it is going to be useful to you for a long time to come.
Enjoy Your New Lighter.
Another really cool thing about the Ronson Jet Lite that makes it the ideal lighter if you are purely purchasing for convenience is that when you pull it off the shelf it already has fuel in it. This is nice because it allows you to delay the purchase of fuel until you are able to research and determine the best fuel for you to purchase for the best price while still giving you the immediate ability to light your cigarette.
You can join our email list to the right on any page at DependableFlame.com.
Like us on Pinterest, Twitter and Facebook.
Please subscribe to the DependableFlame YouTube channel. We are committed to video documentation of every vintage cigarette lighter that we put back into service.
Please leave any questions or comments below. I look forward to responding.