If you are gathering up the tools necessary for vintage cigarette lighter repair, it would be difficult to overstate the importance of a quality, rechargeable drill if you plan to have much success.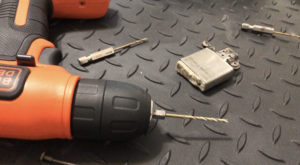 Simple jobs may require basic tools but does a daunting task necessitate more precise equipment? In this article we will sort through these and other questions to make sure that you purchase the right tool for the job you have before you.
Review
(As an Amazon Associate, I earn from qualifying purchases.)
Warranty: 2 Year Limited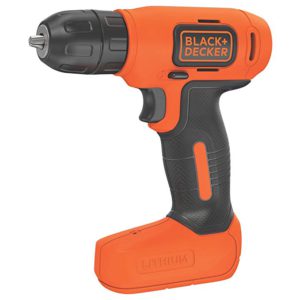 Chuck Type: 3/8″ Keyless
Battery: Integrated 8V With USB Charger
DependableFlame.com Rank: 5/5(Our recommendation for overall vintage lighter repair)
Pros: Versatile Chuck, Lightweight, Ergonomic Design
Cons: Integrated Battery Requires Charging(Can't Swap Batteries)
With the Black & Decker 8v Max Cordless Drill you are purchasing a light to medium duty tool at a price that won't empty your bank account. It will perform every task a vintage lighter repair mechanic needs a drill to execute. The integrated battery may not allow the convenience of swapping in a freshly charged battery when depleted but the long battery life and closed case/one piece design offset any perceived trade-off.
This is a great overall drill with a 2 Year Limited Warranty.
Warranty: 2 Year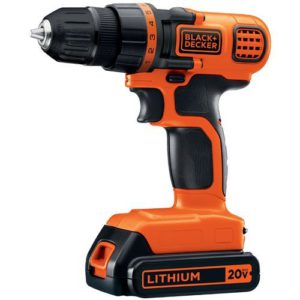 Chuck Type: 3/8″ Metal
Battery: 20V Lithium Ion
DependableFlame.com Rank: 4.9/5
Pros: Long, Efficient Battery Life, Compact and Lightweight
Cons: Bottom Heavy Battery Design Can Be Awkward
The Black & Decker LDX120C 20V MAX is a fine drill that should provide many years of dependable service. This drill may be a little too much for a few in the audience but for most provides the added versatility of removable batteries with considerably more power than the 8V MAX. This drill is a good overall choice for the money, especially if you plan to use it for other household projects.
Warranty: 5 Year Limited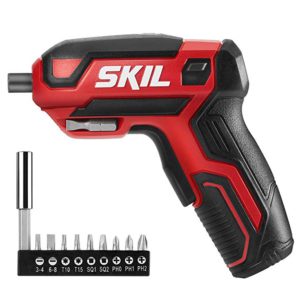 Chuck Type: 1/4″ Hex Shank
Battery: 4V Lithium Ion
DependableFlame.com Rank: 4.8/5(Straight flint tubes only)
Pros: Lightweight, Convenient, Affordable Price Point
Cons: Only accepts 1/4″ Hex Shank Drill Bits and Tools
If ease of use and low cost are what you are looking for and you don't need all the bells and whistles of the other models, the Skil Rechargeable 4V Cordless Screwdriver may be just the tool you need. If you have read my article on repairing lighters that won't spark, then you know that because this drill does not have an actual chuck and can only accept hex shanked bits, it can not be used to clear curved flint tubes, at least not using the method that I have outlined.
Many lighter collectors focus on one particular brand, or perhaps a few similar styles, so it's not too far fetched that some folks who end up working on vintage lighters will have no interest or need to tackle an obstructed curved flint tube. If that is the case and you only plan to work on lighters with straight flint tubes like Zippo, this little SKIL 4V may be calling your name.
Warranty: 3 Year Limited Manufacturers'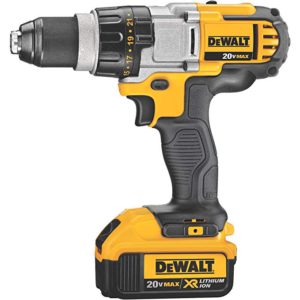 Chuck Type: 1/2″ Heavy Duty Metal With Carbide Inserts
Battery: 20V Lithium Ion
DependableFlame.com Rank: 4.9/5(Just more tool than this job requires)
Pros: Long Battery Life, Superior Chuck
Cons: Major Financial Investment
I really only included the DeWalt 20V MAX XR Brushless Drill to show a little of what a top of the line, cordless drill would have to offer as opposed to the other featured drills but also to illustrate not only how expensive drills can be but how relatively affordable it can be to purchase a drill that suits the job of vintage lighter repair.
This is a great drill and I would love to have it. It would do the job that I need to get done but unless I am also using this drill for construction, carpentry or some other major project, it is overkill and not necessary for the job at hand. This drill costs way more money than I need to spend in order to obtain the tool required for the job.
I highly recommend the Black & Decker 8V MAX Cordless Drill. I have owned it for a little over a year now and it has yet to disappoint me. I work on a ton of lighters and depend on this drill to do all the work that I need a drill to do.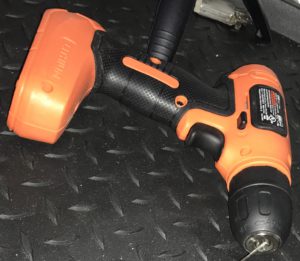 The battery life of the Black & Decker 8V MAX is such that it requires charging so seldom, I usually have to go hunt down the cord before charging because it has been so long since I've had it hooked up. Conveniently, the cord is a micro-usb so you probably have several spares setting around the house.
The keyless chuck on the 8V MAX is more than strong enough to handle the kind of stress associated with repairing vintage cigarette lighters, regardless of the bit or tool being used. It can also stand up to just about any job you find for this drill, restorative or otherwise.
There are more expensive, fancier drills that might provide more power, strength or convenience, which you may or may not need. The Black & Decker 8V MAX Cordless Drill/Driver is more than sufficient to start you down the road of vintage cigarette lighter repair and may very well be the only drill you ever purchase.
Follow Us On Pinterest, YouTube and Social Media
You can join our email list to the right on any page at DependableFlame.com.
Like us on Pinterest, Twitter and Facebook.
Please subscribe to the DependableFlame YouTube channel. We are committed to video documentation of every vintage cigarette lighter that we put back into service.
And please leave any comments or questions you may have at the bottom of this article. Do you have a vintage lighter repair tip that you think could save me some heartache? Let's hear it below! One of my main goals each day is to learn something new, so please help me out with that.