A Lighter Mechanic's Conundrum
A Needle in a Haystack
One of the coolest things about buying and selling collectible vintage lighters is the sheer number of different lighters that pass through my hands. I love seeing them but what I really want is to use them.
I do after all sell vintage lighters that are in working order so I fuel up and spark a good many of them. And while I am an advocate for using old lighters I also need to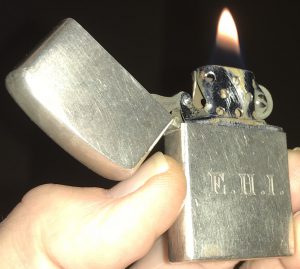 pay the bills.
That means the coolest, most attractive, collectible lighters do not usually get to make fire before they are sent on to their new home. If working on it could damage the value of a lighter that I intend to sell then I generally don't.
But every now and then I encounter a lighter that seems to be an apparition, like the last time it sparked written history was wiped clean of its existence.
Yet, there it is sitting in the palm of my hand like it belongs there and my thumb itching to give it a strike.
ALLEN-HADDOCK CO., 2121 PLASTER BRIDGE RD., ATLANTA, GA STERLING
I purchased the lighter for $10 and that is all I knew about it. So I started doing a little research on ALLEN-HADDOCK lighters and I found a few listings but most of them were old and none of them were sterling. Long story short, I exhausted my usual sources of information.
I'm telling you, that lighter was begging me for a drink. I knew it just wanted to catch fire but I couldn't stop it. And to be honest I felt a huge relief when I pulled out the insert and found it to be missing its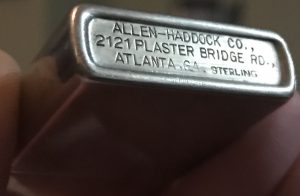 guts: no wick, flint, cotton filling, cover flap or flint screw.
Aha! I'm going to have to work on this lighter anyway so, whether its collectible or not is kind of irrelevant and this might be my one and only chance to own and carry a sterling silver lighter.
Looks Familiar
As a frame of reference, consider the Zippo Slim Windproof Lighter. This Allen-Haddock lighter is about a quarter inch shorter than the Slim and perhaps a shade thinner.
It has a 3 barrel hinge similar to what Zippo had in the late 1940s with the middle bar being wider than the outside bars. It feels very sturdy and closes and holds nicely.
I hear a lot of people talk about the Zippo "ping." I don't know if that is a true test of an authentic Zippo. It seems very likely to me that dirt, grime and all sorts gunk could probably affect the sound a lighter makes when opened.
My point though, is this particular ALLEN-HADDOCK lighter makes a sound that does not echo quite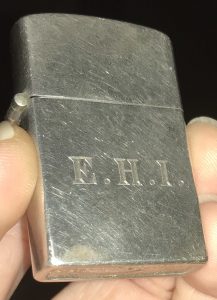 like a Zippo. Nevertheless, it functions flawlessly.
I robbed the innards from a Slim and the flint screw from an old Japanese brass lighter and cut the spring down to an appropriate length. Filled it up with fuel, spun the wheel and what do you know? This is a pretty nifty little lighter.
It is engraved E.H.I. on the front and is clearly marked STERLING on the bottom.
Repairing Vintage Lighters to Use
That's about all I know so far about Allen-Haddock lighters that were apparently manufactured in Atlanta, GA. I hope to run across more of these lighters soon. There are a ton of other old lighters out there that are still capable of making fire or perhaps would be with just minor repairs.
If you have a favorite lighter that doesn't work anymore or would like to repair one as a gift for a loved one, leave a comment at the bottom of the page or send an email or text. I check them often.
If you would like to perform the repairs yourself, I will answer any questions, provide you with any resources that I have access to or maybe you're just stuck and need to bounce some ideas off someone. I'm all ears, I'm here to help and I would love to see you or your loved one lighting up with a lighter that might have thought it had been forgotten.
If you'd like a lighter repaired but don't want to do it yourself then I am your man. Just shoot me a message and we'll see what you have, come to an agreement(assuming the lighter can be repaired) and go from there.
I would also like to know if you have lighters that you'd like to sell or would be interested in consigning to me to sell for you.
This Sterling Lighter Is Mine, for now…
I'd really appreciate readers sharing any info or thoughts you have about this Allen-Haddock lighter or any other vintage smoking aids.
I would guess that at some point I will sell this lighter. With the info I have right now, I would be taking a stab in the dark regarding a value(the silver alone is worth more than I paid for it) so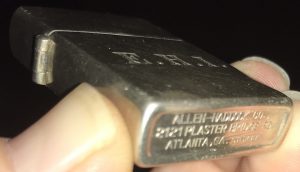 I'm not sure where I would price it to sell on EBay.
But if I do list it I will include a link on this page and it will include a Make Offer option.
So until then, please share any info you might have and I'll make sure and keep this lighter working.