After an absence of less than a month, we enthusiastically welcome our repair clinic Zippos back into the fold.
An Old Beater And A Loosey-Goosey Lossproof
The lossproof Zippo was one of those late night or early morning Ebay bids. Chump change for a beat up old lighter with a ton of character and oodles of potential. It still had most of the paint in its depiction of the USS Camden and its shield, along with some interesting engraving for good measure.
To have tried to carry it as intended would most definitely have resulted in more damage and perhaps even the loss(even partial) of this lossproof lighter! The hinge and the way the lid flopped around were a sad state of affairs but I had been eager for almost a yr now to avail myself of the promise that Zippo has made along with all their pocket lighters.
When I posted pictures of a group of damaged old Zippos I was interested in trading on the Zippo Addicts Facebook group, one of the other member of the group asked why I didn't just send them back to Zippo for repair? The truth was I had never done it because I had a negative opinion of all the lighters I had ever encountered that had made their way through the Zippo repair clinic. The repaired hinges always looked crooked or janky in the way the replacement was attached leaving ugly marks to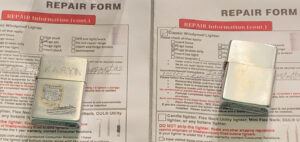 scar the spine of the lighter.
The other lighter was nothing special and I don't even remember how I acquired it other than it was in a small lot. I believe it is a 1965 model, scarred by yrs of use and the perfect project to put to test our abiding principle that usefulness trumps convenience every day of the week. So, just like countless others since Zippo issued its guarantee, I got ready to package up my lighters to return to the Zippo repair clinic.
Following Instructions
The Zippo website contains an interactive menu of sorts when clicking to inquire about the company's repair policies. Glancing through the form supplied on the website, there were varying instructions on shipping and packaging depending on the product needing repair but the pocket lighter was all that concerned me.
The form suggested mailing in a "sturdy box or padded mailer" and stated "We cannot track or prevent damage to multiple items sent for repair. We recommend sending 1-2 lighters a package." Remember that last quotation when we get to the drawbacks portion of this article because I will have a few more words to say about this there.
I packaged them in a very well protected manner and sent them off to the address provided on the form. There were some questions whether that was the correct address as other collectors were used to sending lighters to a different one but as we will see, the address provided worked fine and as I had suspected, when the lighters came back the return address was a P.O. Box.
Managing Expectations
I have seen a few very disappointed Zippo collectors recently when the lighter they had hoped and were certain the company had promised to repair was returned to them still broken along with a replacement of an inferior nature. The guarantee does seem to make a bold promise but I just wasn't sure what to expect.
The brushed chrome '60s lighter was no big deal. It was already beaten up pretty good and wasn't ever really going to catch anyone's attention for its aesthetic beauty but I had great hope for its continued usefulness. I requested the lid be re-attached and a new insert installed. The other lighter, however, I was a little more particular about.
I asked on the repair form for the U.S.S. Camden lighter that the lossproof hinge and loop be repaired along with replacing the missing lanyard if possible. I even saw a Facebook post from a gentleman after I had sent mine in saying Zippo had repaired his lossproof and replaced the lanyard but it had taken several months. Hope for the best but be prepared for the worst!
The Finished Product
I made a video documenting the process of sending the lighters back to the company for repair and you may have now seen others highlighting the process or the results that were achieved. I couldn't be happier with these Zippo repairs!
The 1965 has all the scars and blemishes I expected but I am blown away at how cleanly the replacement hinge was attached. It doesn't detract from the appearance of the lighter at all! That was my biggest fear and the sloppiness that I had seen on all those old repairs seemed welcomely absent from the work done here. It literally looks as good as the weld dimples I have seen recently coming on brand new Zippos!
The Camden lossproof lighter has also really impressed me with not only the detail of replacing the lanyard as I had hoped and requested but also it appears the hinge was repaired and tightened up by simply replacing the actual pin that is bent into the loop. There are no new weld marks or scars on this Camden lighter and that seems like an accomplishment to me.
Of course, both of these lighters still show wear to the finish just like they did when I sent them for repair because as the company has always stated the finish is not included in the guarantee.
Drawbacks
There were a couple aspects of this experience that were a bit concerning but nothing major. The first involves the very issue we just touched on of the finish of a Zippo not being covered under the guarantee.
It seems a little strange to my way of thinking that the lighters were both just tossed in a bubble mailer to clang and bang around on each other for the duration of the trip back to me. Now remember what I quoted earlier about only sending 1 or 2 lighters for repair at the same time?
Let me just say this: the lighters arrived fine so I am not complaining about this delivery. They were both old and scarred up but one does still have paint that I am not eager to lose off of the lighter. That is one of the reasons why I protected the lighters so well when I mailed them, to minimize further damage.
It's clear to me now that Zippo does not care about the finish of lighters being repaired in their clinic, maybe because they already told us it's not covered by the guarantee. That is easy enough to adjust to. I will only send lighters in individually in the future so I can help save the finish of my lighters and not myself and Zippo on the cost of postage.
Just a little humorous side-note, I had emailed before deciding to return the lighters, inquiring whether the lossproof could be repaired to its original state. I got bored of waiting for a response so just decided to go ahead and send it anyway. I received a generic email response this past Friday after getting the email notifying me my repaired lighters were on their way back on Tuesday. As thrilled as I am with the repairs Zippo made, it seems their department responding to emails is both slow and lacking relevant information.
Join The Party!
We have new lighter guys coming online almost daily now it seems! The petrol or vintage or cigarette or pipe lighter community on YouTube is growing by leaps and bounds. People are seeing how cool it can be to salvage and use a discarded old mechanism or to acquire, collect and curate brand new ones by theme or other point of interest.
There are as many ways to collect as there are collectors and though I may be fond of some of the techniques that I use and propagate for other's benefit as well, I am eager and bound to learn new techniques and perhaps weaknesses in some of my own, all part of the knowledge and community that we share and have available to us.
Please consider coming along and showing us your particular philosophy on collecting or repairing cigarette lighters. You will be met with a warm welcome and an eager audience of like-minded lighter folks who just want to watch more Zippo or Ronson videos! Creating a YouTube channel is very easy and costs nothing, a cell phone and internet access are pretty much all that you need. I publish new lighter video to the DependableFlame.com YouTube channel most weekday mornings @8am central. Please check it out, subscribe and tell all your friends, it really will make a difference.
Please leave any comments, questions or suggestions in the section below the article. I can not stress enough how vital it is to the entire operation underway here at DependableFlame.com for you to interact with us in the comments to this or any other article.
If you need to post a photo along with your comment or question, please consider the DependableFlame.com Facebook page. It is a very user-friendly interface and be sure to like and follow our page and group while you are there.
I can also be reached via direct message on Ebay at any time.
Until next time…