A couple of recent reminders bring me back around to an inappropriate comment I witnessed a few yrs ago in a Facebook lighter group geared toward posters selling lighters to other members of the group. These groups can be a ton of fun but some folks seem to want to chime in on posts where they have no business even commenting.
What Is The Purpose And How Does It Work?
I am in multiple groups that use the Deal Or No Deal(DOND) format but only one of those groups is specifically designed to sell cigarette lighters. The rules for these groups seem to be pretty straight forward but folks run afoul of the rules pretty often anyway. The gist of it is a seller posts a lighter or lighters that they would like to sell and set the terms for shipping, whether they'll separate or sell only as a lot, etc. and buyers make offers one by one that the seller can either accept and say, "Deal!" or decline and say, "No Deal."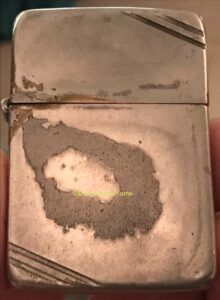 The format is a little more relaxed and casual than an Ebay listing and also affords the seller of skipping Ebay fees and possibly even allow the buyer to avoid PayPal fees by using the Friends And Family payment option(obviously at the buyer's own risk!) The framework of the group is structured around trust between buyer and seller but PayPal Goods And Services payments are the only way for the buyer to actually protect themselves.
I wish I could share posts from the vintage lighter DOND group that I'm in but the group is private and sharing is not allowed in private groups.
What Should Be Disclosed?
I believe it is incumbent on every seller to disclose any blemishes or alterations that may have been made to a lighter. There should be a thorough description regardless of where you are selling your wares, noting maintenance that the seller performed or is aware of being performed on a given lighter.

I don't expect every seller to know everything there is to know about every lighter that they post for sale but there are basic dispositions that would be apparent to every person who has more than a cursory interest in selling old(or even new) cigarette lighters. Scratches, scuffs, dings and dents should all be mentioned as should the replacement of original wick and wadding, added embellishments, evidence of polishing or other(custom) manipulations of the finish, engraving and so forth.
When it comes to selling old Zippos, I would never try to sell a lighter that had a hinge replaced by the Zippo Repair Clinic without noting that in the listing. That's a non-negotiable to me but at the same time, being able to see the signs or evidence of a repaired Zippo should be at the top of the skills acquired by those seeking to purchase old Zippos in the first place.
Is This Seller A Crook Or Being Dishonest?
Just because a seller doesn't disclose a piece of information that many buyers may pick up on immediately doesn't necessarily mean that seller is a crook. It could just be that they are ignorant of something they should have been aware of.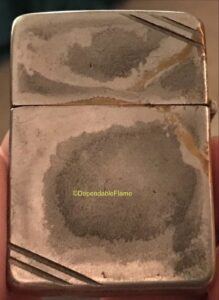 If a seller makes a habit of leaving out seemingly important information then perhaps they are just lazy or don't hold themselves to a very high standard as a seller. I have no problem with sellers stating the photos are part of the description but a proper description should always contain more than simply photos.
Selling old items online requires a modicum of research at the very least. In order to come up with appropriate market comparisons, a seller simply can not be uneducated. At the same time, buyers can't expect a seller to be omniscient either. There may always be some crumbs of info or background that remain in the purview of ignorance.
The One That Really Set Me Off!
Comments on posts on the vintage lighter DOND page can get ridiculous though. I mean, at its heart the format for a DOND page is not for people to comment anyway unless they are part of the DOND process, i.e. buyers bidding and sellers responding deal or no deal!

But I witnessed a listing a yr or two ago where a seller had posted a very old Zippo and noted on the listing that the hinge had been repaired by Zippo. Now, I'll just say that this Zippo was old enough that anyone who knew much of anything about Zippos should have known immediately that the five barrel hinge on the lighter was not original. Any person buying old Zippos should have educated themselves beyond just trusting what any old seller tells them in the first place, but I digress.
As I said, the seller had properly described the Zippo repair in this case so everything should have been copacetic. He had received an offer or two(to which he responded, "no deal") when a very high profile collector and dealer decided to make his opinion of the lighter known on the post. Let me just say here that I am not a fan of old Zippos that should have a three or four barrel hinge originally but have been replaced with a five barrel of any kind. They just don't appeal to me but

it's not my job to comment and tell that to everyone who is interested in the post or especially in buying the lighter.
But that is exactly what our well-known collector/dealer did! No one tagged him and asked his opinion. He simply posted unprovoked and without invitation something to the effect that the repaired hinge ruined this lighter for him! You can just imagine the effect a comment like that can have on a listing when a known, respected individual says something like that.
Remember, the hinge repair was noted by the seller and did not need to be brought up at all except for this individual to make their opinion of the lighter known to all these folks who didn't ask for it.
Be Kind And Remember The Golden Rule
The moral of this story from my point of view is to treat others as you would like to be treated when participating in any way in a DOND or any other format for selling lighters. I have no problem with folks asking for clarification when a seller may not have been as forthcoming with information about a lighter as they should have been. Sellers are obviously sometimes ignorant of specifics about a lighter or what box it should have come in or what embellishments or finishes should rightly accompany it.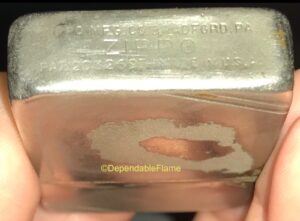 That was not the case with our famous collector/dealer's comment though because the info he addressed had already been clearly noted by the seller. This collector/dealer needed everyone to know what he thought though. The comment was out of line and had no place in the DOND group and I hope that anyone reading this will remember and treat other folks with the same courtesy and kindness that they would like to receive.
Please leave any comments or questions at the bottom of this or any other article at DependableFlame.com.
We would also appreciate if you check out our YouTube channel and tell all your friends about it. We publish vintage lighter videos most weekday mornings and conduct a vintage lighter live stream every Tuesday morning at 10am central time.
Until next time…✌️