My first Beattie Jet Lighter will not be my last.
Back in the Day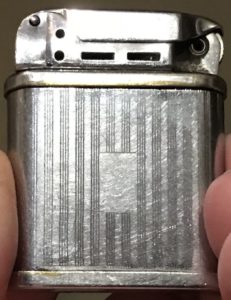 I remember when I was a kid my dad telling me stories about the things he did during his time in the U.S. Army. These stories always had elements of difficulty: drinking ones own piss out of a boot, cross-country skiing , field stripping your service weapon blindfolded.
Now, he didn't do all those things himself but if he didn't do it he saw someone do it and while these things are all challenging, he told the stories with so much fondness and detail that I knew these experiences had enriched his life. This taught me the value of a learned skill like being so familiar with your weapon that you could break it down and clean it blindfolded. These are lessons I use every day selling vintage lighters on EBay.
I have repaired and worked on so many Zippo and other flip-top wick petrol type lighters that I could do it blindfolded. I'm glad I know how they work because it has come in very handy to me but it's kind of boring to work on them all the time. There's just no challenge to it. So, it's always exciting to have my first experience with a new lighter. Especially when it'll throw a 3-inch flame and hiss like a blow torch off simple naphtha fuel.
A Bird of a Different Feather
The Beattie Jet Lighter is a little strange looking and I have to admit I used it for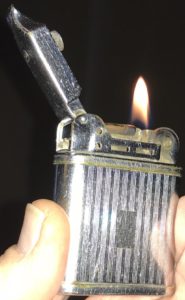 several days before I even figured out exactly what it was supposed to do, let alone how to do it. On the surface it appears very similar to many other petrol lighters, just with a brass snorkel offset to the side, behind the wick.
When the flint wheel is struck, sparks ignite the wick just like a Zippo. The flint
tube was plugged with a corroded flint when I got this particular lighter. I'm pretty good at removing them from other lighters but this one was really difficult to get cleared out for some reason.
Anyway, once the flint was installed I struck it, it lit and I used it for about a week like that and it worked fine but I still didn't know the purpose of the brass rod and I couldn't figure out why it had jet in its name. So I Googled it and found an article that said tilt it so I did and this is what happened.
WTF is the Snorkel For?
I shared a video similar to the photo above with my Facebook friends and one of
them said he thought I needed to get out more often. I think he's just jealous because he's a fireman and that's more fire than he sees in the average yr.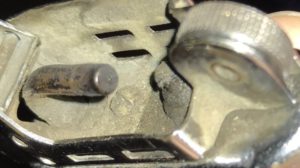 Whatever, I think it's cool as hell. I had failed to consider that there could be a torch lighter that wasn't fueled by pressurized butane. Butane lighters have their whole own set of quirks that can make them impossible to repair so just to be able to squirt some Ronsonol in the bottom and not have to pump butane in gives this "jet" lighter added value in my mind.
The brass snorkel feeds down to the bottom and curls back up inside the removable insert. I don't know the science behind this but it appears that when the brass rod/snorkel reaches a certain temperature, it allows a tiny hole to open and emit the heated butane that fuels the jet torch feature. It's like having two lighters in one.
Upright, it works like the other windproof type naphtha lighters you use to light a cigarette but if you tilt it slightly and let that rod fuel the already lit wick, then you can suck it right down into your pipe from about 3 inches away.
Decisions, Decisions
I'm in no big hurry to sell this one. I would like to get a couple more so I can experiment a little just to see how Beattie and other similar "jet" lighters operate.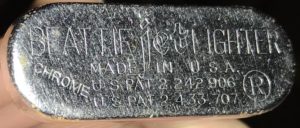 There is a list of a few other manufacturers of similar designs from around the same time, including the Champ Jet Stream. I'll do some more research on those to determine which lighters to be looking for.
This Beattie appears to have been manufactured toward the end of the company's run which started in the mid 1940s and ended in 1961. This is indicated by the two patent numbers stamped on the bottom of the lighter case. I also read that there are 3 patent numbers attributed to 3 different men that are associated with the Beattie Jet Lighter and that it was possible that the men were credited incorrectly at times for the patent being used at a given time. Very confusing. It was a lot more fun playing around with this lighter than it was looking into its history.
Please Share Your Knowledge!
I tried to take pictures that would demonstrate the "jet" effect of this lighter. I don't know if it was the flash or what but it seemed that none of the pictures did the flame justice.
My experience with this Beattie Jet has only begun but I would love to hear comments from readers who know more about them or other "jet" lighters of the era.
I'd welcome any other comments as well. Maybe you are a mechanic or engineer who can explain to me exactly how these lighters function(or where I am misinformed) or you're a smoker who would like to find one for yourself.
I'll be sitting here, probably trying to capture a better image of that flame when it is stretching out there like a tongue who's only desire is to lick the rim of my pipe.
Joseph
(405)693-5678
BTW, my dad did not drink the piss out of his own boot. At least that's what he told me.