A "Storage Wars" style breakdown of my latest Ebay purchase.
There are many variables to consider when purchasing vintage lighters that you intend to put back in working order. Fuel type should be at the very top of that list. I have written  elsewhere about the pros and cons of butane fueled lighters but the sole focus of this article is going to be petrol/wick type lighters.
I'm going to break this lot down into three groups: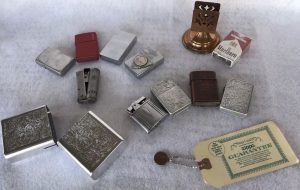 The lighters that caused me to purchase the lot.
What I expect from the other lighters in the lot.
The "bonus" items.
If you're buying vintage lighters to use, you can get a much better deal buying lots rather than individual lighters. I know this because I do it every day. I'm not going to give away any of my secrets because there aren't any. You either know what you're looking at or you don't.
I can't make you memorize the Zippo date charts. I can't give you the patience to sit through listing after listing until finally your quarry materializes before your eyes. I can't pound precious metal prices into your skull, besides I don't want to. There's no one thing but there's a lot of margin for error here.
Easy Money or Bust
Right off the bat, I noticed the  Champ Austria lighter. I have been looking to add more of these to my personal collection of combustion tools so I was willing to assign that lighter more value than if I was going to sell it. These old Champ lighters have a really cool wind cage design and they are pretty affordable. I'll bet you, when it's all said and done, I'll still have the Champ and won't have paid a penny for it.
I paid $40 for this entire lot of lighters but there is one lighter that could bring double that all by itself. Third from the top left in the main picture is an Original 1932 Replica Zippo. This was made much later than 1932 by Zippo to commemorate their original lighter but these are still pretty scarce and sought after.
Now, if everything is cool with both these lighters, then all the rest are cake. If the Zippo pans out but the Champ has a wrecked insert, I will be sorely disappointed but my sadness would be the only consequence. If the Zippo is fake or mangled on one side(the only clear photos were of the front and bottom of the case) but the Champ is a winner, I'll be glad I have the Champ but I will really need some of the other 7 lighters to come through for me.
The Staples
This is generally where you find a lot of value. Many attractive lots will not have a big dollar lighter but you can find Zippos and other "Windproof" petrol wick lighters practically being given away. The other 7 lighters are as follows:
Plain 2012 Zippo
Red Zippo w/ busted hinge
2005 Buffalo Nickel Zippo missing the top half of arrow applique
Imco Triplex of dubious condition
Ronson lighter marked Art Metal Works on bottom
Storm King floral pattern
Unknown floral pattern(Park?)
This is kind of a mixed bag. The Ronson could be a hidden gem, as could the Imco Triplex. Either of those two lighters, in good functioning order, could easily bring $25.
The floral pattern and Zippo lighters would be in the $10-15 range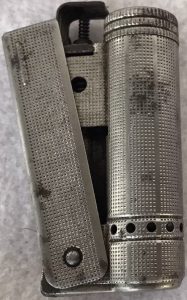 if they work. The 2 damaged Zippos will probably be scavenged for parts, although Zippo will always repair your lighter with the only cost to you being the price of postage.
The package could arrive and it's all a pile of junk. It happens. There is no way that every one of these lighters pans out. Not in my expectations anyway.
Most likely, at least half the lighters that look promising will either be junk or not reliable enough to resell. But there were still a few other items that might bail me out.
Eh, We'll See
The lot also included a Zippo penny, Marlboro matches, a Park floral cigarette case and what looks like a stand-up napkin holder. The "cent never spent" to repair a Zippo lighter could be another $5-10.
The cigarette case, if it's not damaged, would be at least another $10-15.
The napkin holder or whatever it is, I don't have any idea. The only reference to it is where the listing title simply says "Copper." It's strange the seller would include it in this lot and actually list it in the auction title while giving no pertinent info about the Zippos(maybe because the whole thing is a pile of crap?)
The Marlboro matches will probably be used to light my pipe. They are not worth much, maybe $5. It's possible that these 4 bonus items that I didn't really consider when buying the lot, could recoup the $39.26 I spent. We will see.
I'm Here to Help
When I get the items from this lot listed, you will see them here. Make sure to come back and check it out so you can see how I ended up doing on this lot, good or bad.
I would also love to hear your comments or questions about anything smoke, fire or Huntington's Disease related. Please take note of the social media share buttons beneath the article. If you find this site interesting and helpful, I would love for you to share it with your friends.
If there's a lighter you would like me to keep my eyes open for, let me know. If I'm not writing for this site, I'm probably browsing one of the multitude of online auctions and I see a shit ton of lighters. Way more than I could ever afford to buy or have time to work on and resell. I'd love the opportunity though, to help you and be more efficient at the same time.
If you have questions about building your own website or affiliate marketing click here.
Joseph
(405)693-5678