Including a mention of the Greetings From Zippo 540 Color lighter in last week's review article inspired a little further search into the 540 Color Process Zippo lighters available on Amazon for sale. In this article we will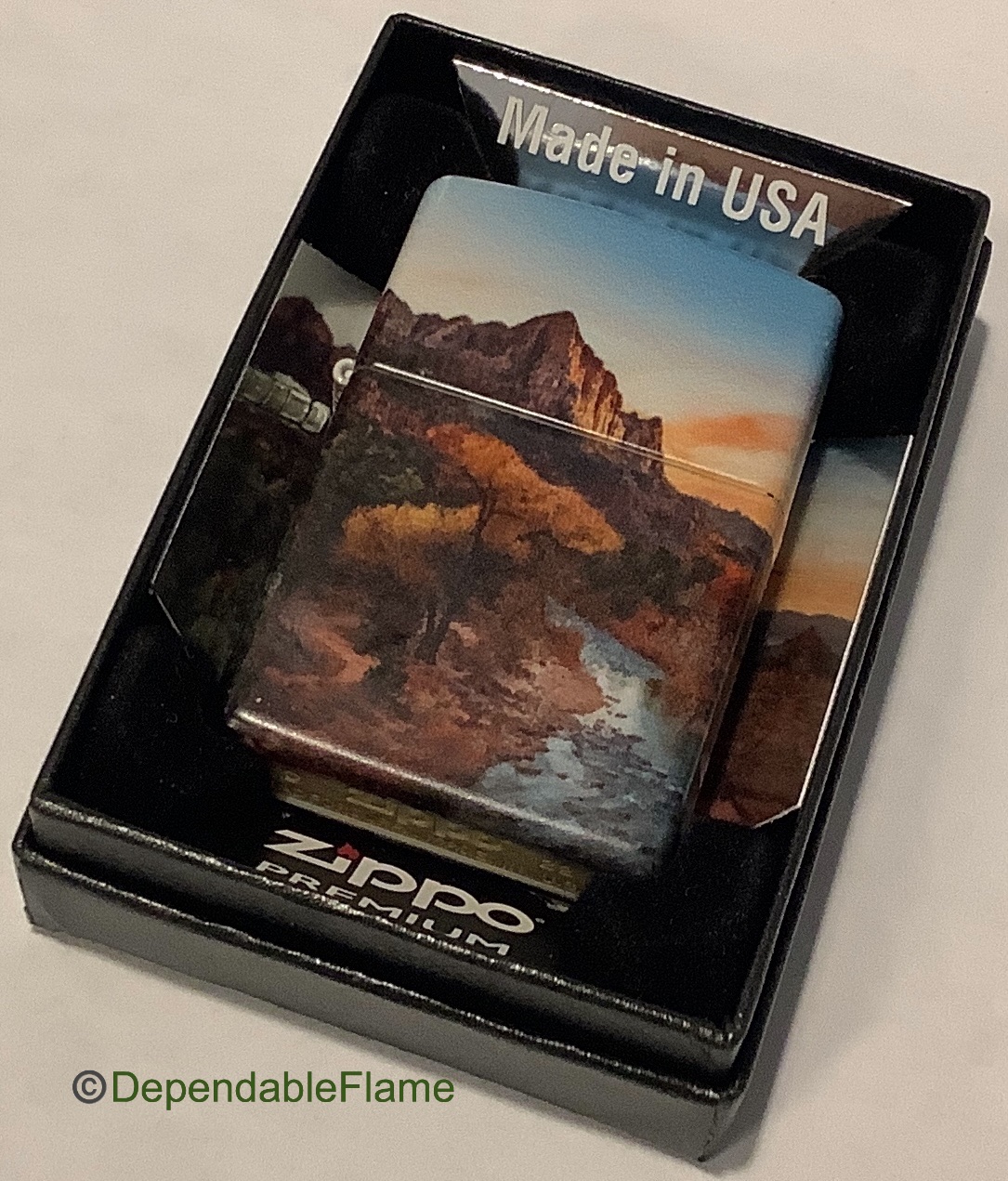 highlight the Greetings From Zippo along with a handful of other 540 Color and Fusion lighters that collectors will not want to miss out on.
(As an Amazon Associate, I earn from qualifying purchases.)
From the rendering of the Zippo headquarters building to the postcard style lettering full of reminiscent images, this lighter screams, "Bradford, PA!" It is a grand design highlighted in bold colors that really help achieve this vintage aesthetic.
Postcards were at a point in time a valuable tool to send messages or just say hello and pass on a bit of the joy of what we experienced on vacation or other trips of leisure or even business. The sort of communications social media accomplishes for us today were once the purview of postcards from specific destinations.
The Greetings From Zippo 540 Color lighter carries the same feelings as the old postcards. If you've been to Bradford and need a reminder until your return or just like experiencing far away places(especially containing a Zippo theme) you've never been, the Greetings From Zippo 540 lighter will be right at home in your collection.
The Glow In The Dark Logo applied via the 540 process has elements that remind me of forensic crime scene investigation or alien science fiction. It is an eye-catching design that seems it would be right at home in the pocket of an X-Files nerd.
The design is sort of an obscured static, displaying DNAish flourishes alongside the somewhat hidden Zippo logo. I'm sure the bright green and darker tone colors pull out the alien presence I feel in this lighter.
The Glow In The Dark functionality rounds out the Sci-Fi elements apparent and lends credibility to this design. Toeing the line between science fiction and scientific imagery blur the lines of origin and increase the Glow In The Dark Logo's appeal across many collectible themes.
This I-spy Zippo was the first 540 Color Process lighter I became aware of a couple yrs ago when it was first offered as a Zippo.com Web Debut exclusive. The lighter quickly sold out and was all the rage in the Facebook lighter groups as collectors jockeyed for position from which to purchase one as soon as they once again became available.
Not unlike the Greetings From Zippo, the I-spy could be considered a design cousin, the two sharing a few elements and aesthetic philosophy. Where the Greetings features elements germane to the history of the company, the I-spy focuses on many historical nuances associated with the Zippo Windproof Lighter itself.
The changing date stamp, a wick, Zip-a-flint, guarantee paper, etc. present alongside a similar portrayal of the headquarters building and Zippo car. All iconic elements that make this lighter just as desirable now that is available on Amazon as it was when collectors were lining up in electronic queues to buy it as a Web Debut.
I'm not a huge fan of the color orange, at times I've even hated it. I do drive an orange Jeep Renegade these days but still have an aversion to OSU plain or Texas burnt orange. This 540 Fusion lighter is subdued by yellow working with the orange and made more appealing by its inclusion.
The way I understand it, ombre design is a progressive color palette of sorts presented one extreme to another. The 540 Fusion Ombre Orange Yellow is a smooth, calm design that will display well in collections while also impressing as a daily carry.
I have handled and regularly used a 540 Process Zippo as part off my rotation of Every Day Carry(EDC) Zippos. The 540 finish may exhibit blemishes but in my experience is not anywhere near as fragile as most printed embellishments found on Zippos in recent yrs.
This lighter reminds me of the fanciest gift bag tissue paper I can envision. The muddled pastel mixture is a whimsical, feel-good design that would find a terrific home in a purse or in the pocket of the sort of fella who likes to wear pink shirts(as I have been wont to do from time to time!)
I can clearly pick out blue, purple, pink and yellow, yet other colors a present and apparent in the fusion effect. Sort of like a dramatic rethinking of camouflage from nature to fru-fru design, I think this lighter may be a sleeper for EDC purposes as the break-up nature of the colors will hide some blemishes.
This Holographic Design 540 Fusion lighter will display very pleasingly in any collection. A new owner may find it more pleasing however, to pull often from the pocket and see what conversations it evokes as it's being put to its intended use.
The graphics on the lighter appear as though seen through the eyes of someone experimenting with LSD or some other hallucinogenic drug! It is a very cool design that shows itself alive even before demonstrating its Glow In The Dark capabilities.
The amped up lettering is presented on a backdrop reminiscent of racetrack checkered flags or country diner tablecloths. The multi-colored lettering stands out strongly against the subdued background of the white/black checkered design.
This is one of the cooler executions of the 540 Color process that I have seen in a Zippo design. The addition of the GITD function only adds to what is a fine lighter design that is one of my favorites!
Take Your Pick!
540 Color Zippos are some of the most sought after lighters on the Zippo collectible market today. This process allows for the embellishment of lighters in ways that previously would have been unheard-of.
I believe the appeal of these lighters as EDC options is underrated at this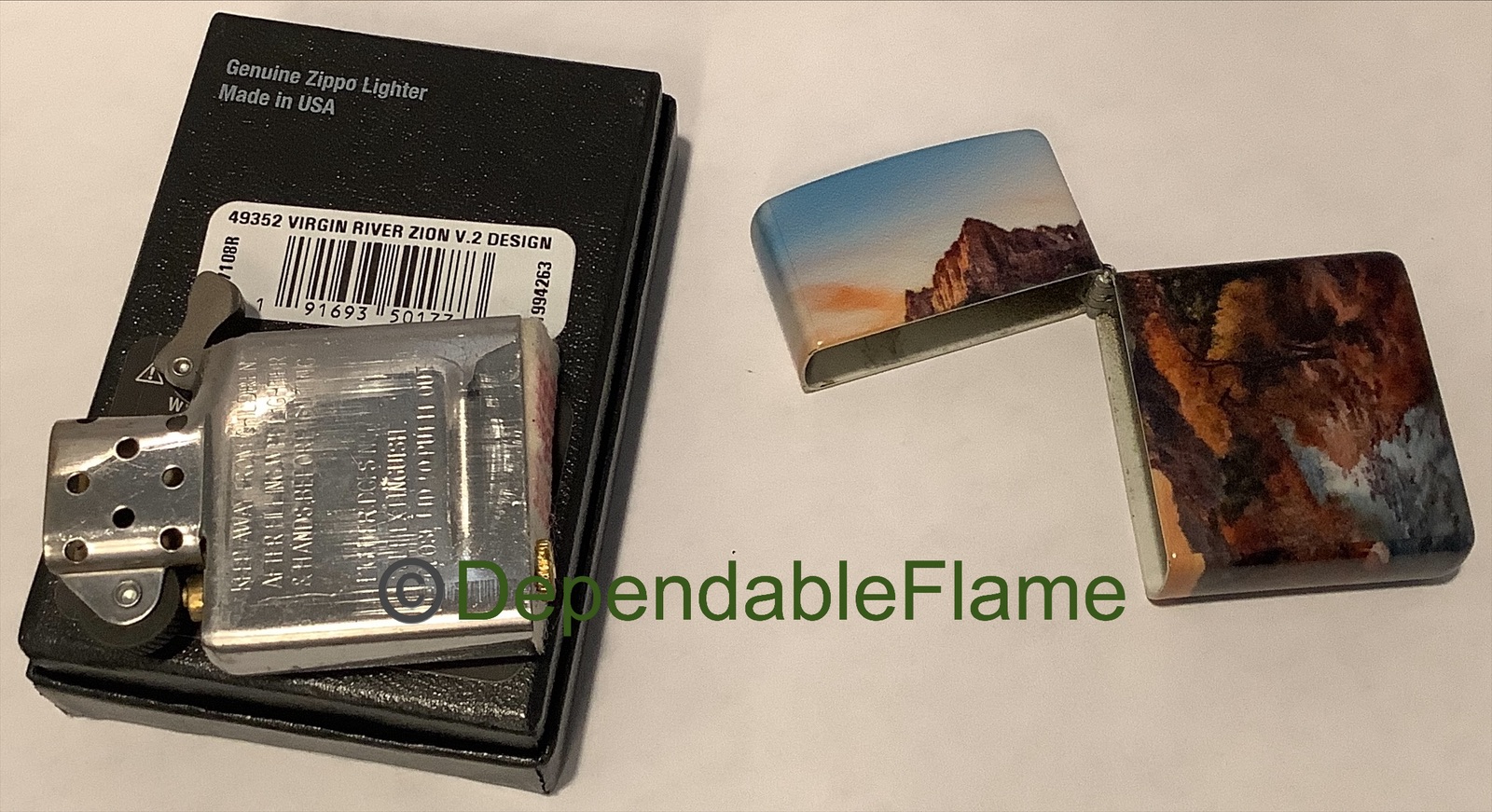 point as well. I hope you will share your insight for not only collecting and displaying these great Zippos but also using them on a regular basis.
You can leave any comments or questions in the comment section under this article or any other at DependableFlame.com. I try to answer all questions posed via email, Ebay, YouTube comment, text, Facebook, etc. but answering questions on this website are my priority.
Please check out our YouTube channel and tell all your friends about the conversation and camaraderie that take place there. We regularly publish show & tell and instructional lighter repair demonstration videos. We also conduct the YouTube live stream Vintage Coffee And Lighters Live! on Tuesdays @10am central.
Until next time…✌️