Late last evening I received an email from Zippo Manufacturing Company which prompted a little internet style window shopping. The initial link had led me to the Zippo website browsing their collection of Web Debut Lighters. There were several cool designs present such as the Howdy Cowboy design which got me wondering if the Web Debut lighters were really exclusive to the Zippo site. A quick check of Amazon proved the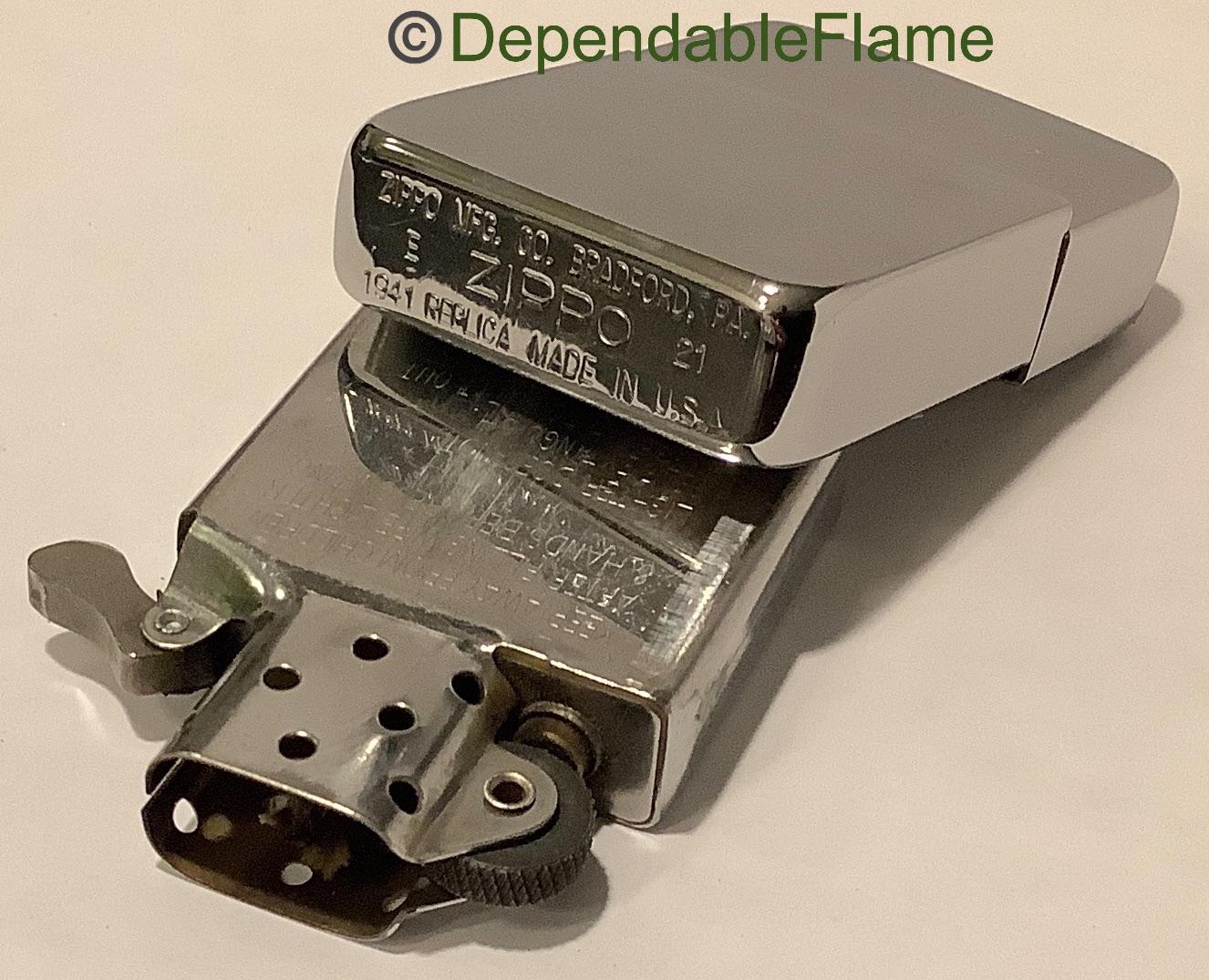 Howdy Cowboy design was indeed nowhere to be found but I shortly stumbled on so many options of different Replica Zippo lighters I was astounded. I own two regular brushed chrome 1941 Replica Zippos and have been looking to add the Black Crackle version but may have to make room for some others after this late night shopping excursion.
(As an Amazon Associate, I earn from qualifying purchases.)
I start with the Black Crackle because it is the one I have desired the longest. Even before I owned a single Brushed Chrome example I was shopping for the crackle. The 1941 Replica features many characteristics that are not present on a current regular Zippo Windproof Lighter but a throwback to the nostalgic 1941 design.
The four barrel hinge is aesthetically pleasing and highlights the flat spines of the '41 Replica that stand in such contrast to the rounded feel of today's production Zippos. Even looking at a two-dimensional photo taken facing the four barrel hinge is reminiscent of the old lighters.
Supposedly, the process by which the Black Crackle finish is applied differs from that used during World War II but the look is very similar and rings more authentic than when applied to a current design Zippo. I haven't had one in my hands yet to judge the comparable feel of this finish but look forward to making that discernment soon!
I am not a huge fan of this Zipper design. Not only the Zipper motif itself but more so its placement on the '41 Replica to begin with. It seems like a 1980s ad on a 1940s item.
Maybe that's the point though, an updating of the older design lighter with a newer(though still remindful to today) design advertising type graphic, sort of a conglomeration of nostalgia!
It reminds me a bit of the blue jean motif design I think from the 1990s. Supposedly those were recalled over a trademark dispute with Levi Strauss. I was a big fan of those jeans back then but not real keen on the design of those old jeans or this specific new Zipper design on a Zippo.
This logo design is applied to the same Black Ice finish as the last lighter but I believe to much better effect. I love this sentimental Zippo Logo design and think the Black Ice finish is the perfect backdrop for its wistful feel.
Some of the coolest designs I've seen of late are the bygone box top depictions. Not only box tops but other elements of Zippo's history like signage on the Bradford headquarters or the various base stamp templates over time.
I recall Chuck Riley at Riley's 66 having an exclusive design lighter with multiple vintage box tops laid about. Another favorite is the Greetings From Zippo which is currently available as a Web Debut on Zippo.com. I'm not sure if this design is technically a box top homage but it has the same heartwarming, evocative feel.
Brass Zippos are always popular and I find this brushed finish on the '41 very appealing. The Black Crackle will be added to my collection first but I won't be upset if someday the Brushed Brass example comes to roost.
Many folks love to handle and use and witness exactly what kind of patina shows up on brass finish Zippos. I've seen countless posts in the Facebook lighter groups over the yrs where people actually chemically force a quick patina on the finish of a lighter. To each their own!
I am intrigued by owning a brand new brass finish lighter as most of my experience with the type has been cleaning up and making presentable examples that someone else has already allowed to oxidize and turn green. I'm not a fan of the "greening" at all so would love to see how this finish held up to being in my hand for a while.
I already own two of these so I'm not really in the market for another but this is a classic and must-own '41 Replica. It could be seen as the most basic or perhaps the most appropriate for most usage.
The brushed finish will take on scratches, scuffs and other typical blemishes but not necessarily to the detriment of the lighter. Where the Street Chrome finish actually seems to hide scratches, the brushed chrome rather doesn't draw attention to them.
Experience also tells me Brushed Chrome has been the prevalent Zippo finish since its inception. Sure there have been many high polish and even a few other finishes but the flagship status of the Brushed Chrome finish makes it ideal, especially if contemplating buying a 1941 Replica for your EDC rotation.
These next two will cost you a bit but boy are they stunning! I have owned a couple solid sterling silver Zippo Windproof Lighters and I can't say that any other ever felt better in my hand.
The late 1940s example with a three barrel hinge was a work of art and felt like a unicorn at the time even if it did have a later replacement insert. The 1950s or '60s sterling Zippo with the signature "Lewis Gordon" had gathered a nice patina and was a really cool lighter to own.
This High Polish Sterling Silver '41 Replica would be a bucket list type Zippo for many who collect newer lighters. High Polish is famous for taking on scratches. I have also seen several folks over the yrs who love to use such a high end lighter in their daily life. After all, that's how you develop that really cool patina!
While the High Polish will definitely accentuate most any scratch, the Satin finish may help hide them a bit. The texture may also aid finger purchase as damp fingers may slide on High Polish where the Satin provides more friction.
The Satin finish looks a bit closer to the effect of the Brushed Chrome, of course on the more expensive, precious metal. The Satin is also currently about fifteen dollars more than the High Polish Sterling Zippo on Amazon and that may be a good investment of a few dollars to those averse to scratches that the High Polish may collect.
As I tend to use the lighters in my collection, the Satin Sterling 1941 Replica would be at the top of my list if ever I were to have such discretionary income to add to my collection. It is an appropriate homage to those lighters just before WWII and a good deal reminiscent of many crackle lighters stripped of their paint.
Plenty Of Variety For Everyone!
There are at least eleven different 1941 Replica Zippos available on Amazon and I have explicitly covered only seven in this article. That just goes to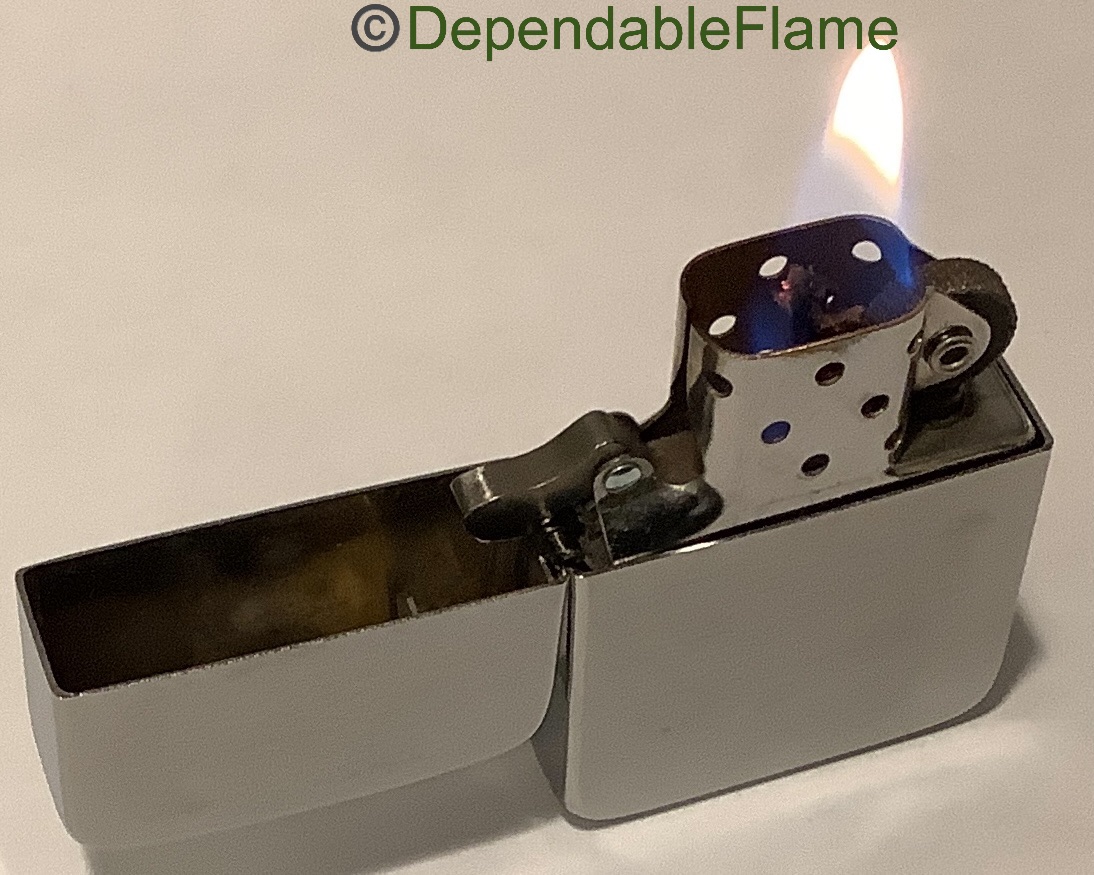 show there's a '41 Replica out there for everyone, including many Zippo designs we didn't even mention.
Many of these being sold on Amazon are offered at a pretty deep discount compared to their going rate on the Zippo website or auction sites like Ebay.
Please leave any insights, comments or questions below this or any other article at DependableFlame.com. I try to answer all the questions asked of me whether they be via e-mail, text, Facebook, Ebay or the comments section of our YouTube videos but DependableFlame.com is the place to ask if you want your question answered fast!
Please check out our YouTube channel and tell all your friends about the camaraderie and fellowship that are enjoyed there. We regularly publish vintage lighter show & tell and instructional repair demonstration videos and conduct a friendly live stream: Vintage Coffee And Lighters Live! every Tuesday morning @10am central time. I hope you will join in on the fun!
Until next time…✌️